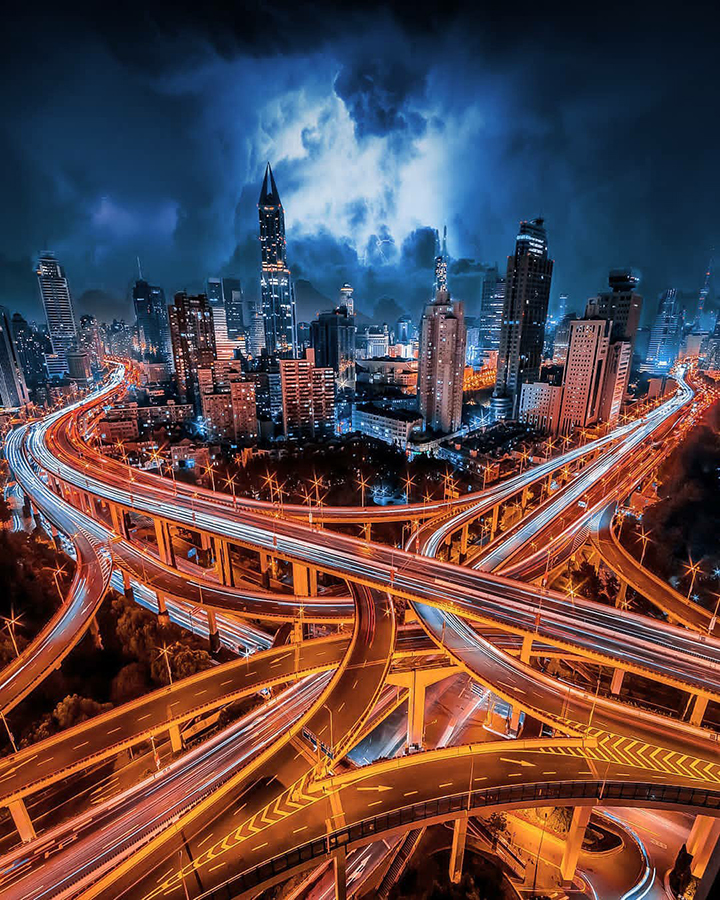 Mark Siegemund's photo: Rising Dragon, the Yan'an Elevated Road with its famous "dragon pillar".[Photo provided to China Daily]
His photos also caught the eye of design firms that later commissioned him to do interior and architecture photography. Even major labels such as luxury fashion house Burberry have hired him to shoot a brand campaign. One of the memorable assignments he has undertaken was documenting a new car transport vessel that was berthed in Shanghai.
When asked to name one of his favorite photos of Shanghai, Siegemund singled out the image which features a section of the Yan'an Elevated Road. Shot at night, the image depicts a series of roads criss-crossing one another, with skyscrapers set against a backdrop of an illuminated sky.
The urban legend behind this section of the Yan'an Elevated Road, he explains, was what compelled him to shoot the photo.
According to the urban legend, engineers once faced a problem installing a new concrete pillar along the expressway because they could not drill to the required depth. A monk who was invited to perform religious rites at the location said that the drilling attempts were unsuccessful because the site was where the city's guardian dragon rested. He then told the construction company that the pillar must be adorned with nine dragons before it could be installed.
The engineers were able to install the required pillars in the location after following the monk's instructions. When the monk died a few days later, many people attributed the cause of death to him revealing the secret location of the dragon's abode.
"I hope that my photos can stir people's imagination. The thing about Instagram is that people view your photo for only a second before swiping to the next one on their feed. I want my photos to be those where people can stop and wonder. I think my best pictures have this quality," he says, referring to the image.