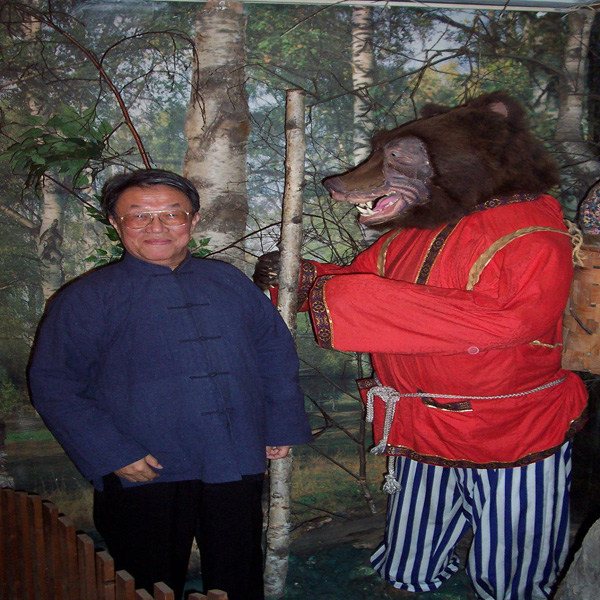 The picture of Chinese writer Wang Meng taken by his Russian-language translator Sergei Toroptsev during one of his trips to Moscow. [Photo provided to China Daily]
"I was reading Honore de Balzac almost at the same time. I'd admit Balzac writes with a scalpel in hand. But I was moved deeper by Tolstoy," Wang adds.
To him, Russian literature is about its humanitarianism.
"Tolstoy is a kaleidoscope to various types of human emotions: regret, sympathy, remorse and more.… His influence is deep in my own writing," Wang says.
Fyodor Dostoevsky's book Humiliated and Insulted inspired Wang, too.
"The title hints at social revolution. People were humiliated or insulted, and they felt uneven pressure, they burst into a revolution," he says.
Aleksei Rodionov, a Sinologist and director of the Confucius Institute at St. Petersburg State University, said earlier that Wang is among Chinese writers who could win the Nobel in future.
"The number of Wang's works introduced to Russian readers is big, and he is actively involved in exchange events, and has long connections with Russian Sinologists," Rodionov says.
Wang says he has brought Sinologists like Sergei A. Toroptsev, the Russian-language translator of ancient Chinese poet Li Bai, to China. Wang has also published a collection of works on the former Soviet Union, the copyright for which has been sold to a Vietnamese publisher. There's another first-person novella inspired by his links to Russian culture.
Toroptsev tells China Daily that it was Wang who showed him different aspects of Chinese literature. His trip to Li Bai's hometown in Sichuan province was also organized by Wang.
"The works of Wang Meng are perceived to be a turning point in Chinese literature, from dogmatic to artistic and humanistic expressions, as well as a revival of the best traditions of Chinese artistic classics," Toroptsev says.
"He shows foreign readers how an ordinary Chinese lives: He introduces the readers to the depths of Chinese life, into their homes and consciousness."
The chairperson of China Writers Association Tie Ning says Wang's writing is "colorful and complicated", and has had an impact on contemporary Chinese literature, research and comparative studies. "Wang has passion, vigor and wisdom even after many bitter experiences."
Wang's work has enlightened some scholars and translators in other countries, as his books have been published in more than 20 languages. Gladys Yang and Maha Chakri Sirindhorn of the Thai Royal family have translated Wang's writings.
Throughout his years first as a student Party member, with the Youth League Committee, and later moving from Beijing to the Xinjiang Uygur autonomous region, and then moving back as culture minister, and as a professional writer-Wang has kept his sense of optimism, humor and romance lingering in his works.
He gets on WeChat, and wears a sporty wristband to record his daily exercise. He speaks Russian and some English when needed.
His latest book coauthored with a doctor on how to sleep well is on a topic he first discussed with German Sinologists almost 30 years ago. In recent years, Wang has been writing widely on ancient wisdom, recognition of traditional culture, cultural confidence, novels and also himself.
His connections with Soviet culture were so deep that in 2012, when his wife of 55 years passed away, Dark Is the Night, a Soviet song associated with the Great Patriotic War, was played at her funeral. Tears rolled down Wang's face when he heard the song being played.
Contact the writer at meijia@chinadaily.com.cn