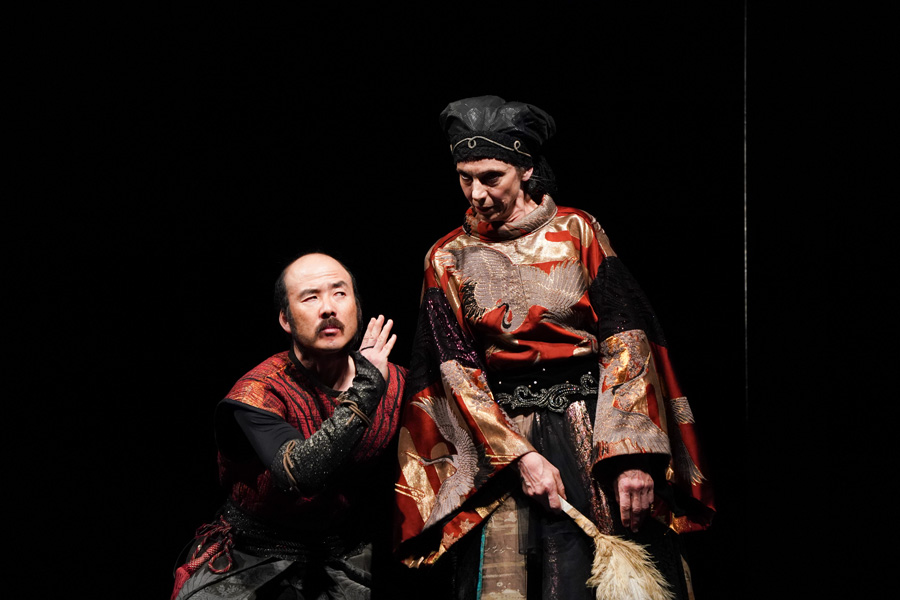 Japanese theater director Tadashi Suzuki's version of the classic Shakespearean tragedy King Lear. [Photo provided to China Daily]
All the actors received training from Suzuki, who is known for his "Suzuki method" of acting. The director, who was born in Shizuoka, Japan, in 1939, has been a theater pioneer since he was a college student at Waseda University. He has developed his own method of training actors, which focuses on the human body's expression of animal energy as the basis for theater performance.
In his adaptation of King Lear, Suzuki sets the story in a nursing home, where a nurse reads to an old man from William Shakespeare's King Lear. As he looks back on his life, the elderly man's memories begin to merge with the story of the play. The old king divides his kingdom among his three daughters, Edgar, Goneril and Regan, but the story ends up in betrayal and death. The old man, who is abandoned by his family, also dies of madness and despair in the end.
"It's a fusion of reality and fantasy. I was inspired by the fact that many elderly people stay in nursing homes now. They are left behind and die alone," says Suzuki, 80. "The play has been well received worldwide because it's seen as a common social problem affecting lots of countries, including Japan and China."