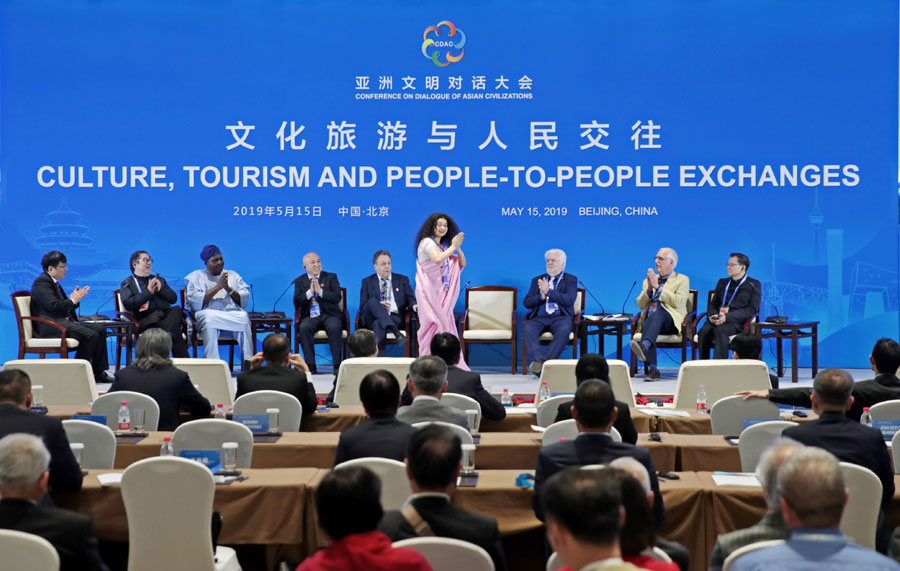 The parallel forum on culture, tourism and people-to-people exchanges is held during the Conference on Dialogue of Asian Civilization on May 15.[Photo/Xinhua]
President Xi Jinping proposed joint efforts by Asian countries to promote tourism to boost the economy and enhance friendship during his keynote speech at the opening ceremony of the Conference on Dialogue of Asian Civilization on Wednesday.
The message was warmly received by attendees at a parallel forum on culture, tourism and people-to-people exchanges.
"During the past Chinese May Day holiday, I told local people in Thailand not to think of booking a hotel because Chinese tourists are everywhere," said Phinij Jarusombat, head of Thai-Chinese Cultural and Relationship Council. "But it's tourism that makes China and Thailand brothers, because it's close to people's daily lives. And more and more Thai people are interested in seeing the ancient Silk Road in recent years, so they travel to Xi'an, Shaanxi province. Development of tourism is mutually beneficial."
Luo Shugang, minister of culture and tourism, said more than 50 million cross-border visitors came to the Chinese mainland from Asian countries and regions in 2018. According to a report released at the forum by the China Tourism Academy, that was about 60 percent of total. Meanwhile, 40 million cross-border visits from the Chinese mainland were made to the rest of Asia last year.
The report also showed Asia received the world's 30 percent of annual inbound overnight visitors.
People's tourism tastes have risen, and they demand higher quality, Luo said.
"A better mix of culture and tourism is thus called for," he said. "Asian countries should join hands to further promote tourism by fully exploring their own cultural resources ... and thus create common prosperity."
He also proposed more efforts to ease the application process for visas and transportation within Asia.
Thong Khon, Cambodia's tourism minister, also said at the forum that his country has launched a strategic plan for the Chinese market that will facilitate travel, and strengthen the quality of the tourism industry through the China-Ready Accreditation System.
"Tourism also brings sources of income and resources that can support and strengthen cultural preservation in an era of innovation and globalization," he said.
He added that a large project in Cambodia to improve infrastructure and adapt new technology, including mobile apps, will be launched to attract more tourists.
About 2 million Chinese tourists went to Cambodia last year. Thong Khon said he expected the number to reach to more than 3 million by 2020, and grow to approximately 8 million by 2030.
"Booming tourism will eventually contribute to closer people-to-people connectivity," said Khalifi Hossein, representative of the Iranian Cultural Heritage, Handicrafts and Tourism Organization in China.
"In the past, when people traveled to other countries, they cared more about whether they had a cozy place to stay or fine food, but now the first question they are asked when they returned is usually, 'What are the people like there?'"
"China and Iran had positive interaction along the ancient Silk Road, which also greatly changed other civilizations," he said. "The Belt and Road Initiative is now starting a new sector."
Speaking of the BRI, an increasing number of Chinese tourism companies want to join. For example, Du Jiang, managing director of China National Travel Service Group, said the company will choose some countries related to the initiative and target Chinese tourists to begin its global business. Vietnam, Maldives and Thailand may be the first steps.
"The company will facilitate Chinese tourists," Du said. "It aims to provide high-quality service to domestic travelers and foreign visitors to those countries as well."