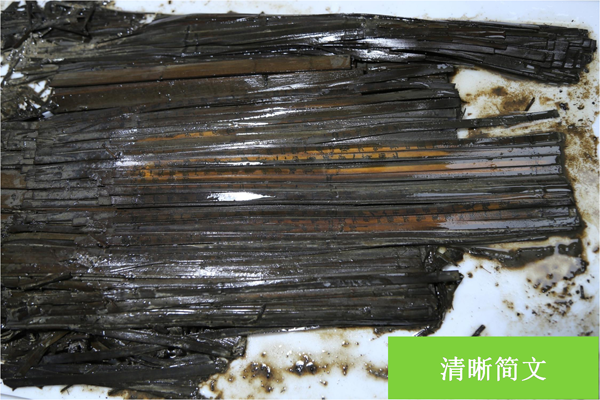 Some words on slips can be seen clearly after cleanup. [Photo provided to China Daily]
In the chronicles, an incident from 218 BC-during the reign of king Ying Zheng, who later became China's first emperor, known as Qin Shihuang-is mentioned. When the king got angry because of a failed assassination attempt against him, he asked for an organized looting of the kingdom for seven days to vent his resentment.
In Records of the Grand Historian, or Shiji, a monumental reference book in Chinese historical and archaeological studies, that campaign is said to have lasted for 10 days.
"That is probably because 'seven' and 'ten' look similar in clerical writing," Li says. "Someone may have made a mistake when copying."
Xin Lixiang, a veteran archaeologist from the National Museum of China, says: "The slips found in Jingzhou are possibly of the highest value among all Han Dynasty slips that have been found so far in China."
The results of academic research on the slips should be made public soon to further relevant studies, he adds.
Wang Zijin, a professor at Renmin University of China and a top expert on bamboo and wooden slips, says: "Some imperial laws had not been seen before in documents. I'm particularly interested in those mentioning raising children. If the study goes further, we might have new ideas of early children's education or pediatrics in China."
This year marks a crucial time for such archaeological research. In Jingzhou, 324 bamboo slips from the Warring States Period (475-221 BC) were unearthed in an excavation, which ended in April. They are from the hegemonic state of Chu that expanded its territory in southern China at the time.
Peng Jun, an archaeologist working on the site, says the materials offer glimpses into the politics, military strategies, ceremonial rituals and other aspects of Chu.