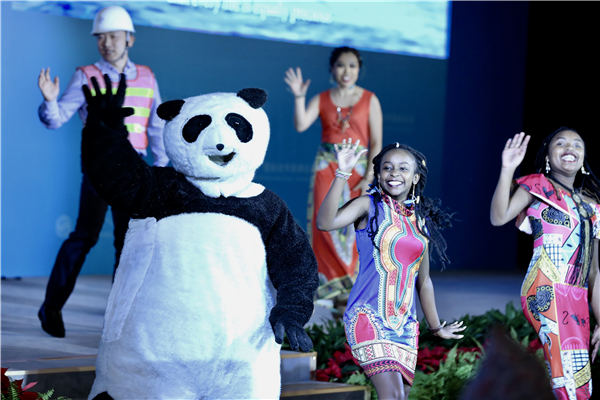 Young artists from Africa and China stage a performance at the Thematic Forum on People-to-People Connectivity in Beijing on Thursday. [Photo by Zhu Xingxin/China Daily]
Initiative launched to revive spirit of ancient Silk Road.
The Silk Road Community Building Initiative was launched at a thematic forum on people-to-people connectivity of the Second Belt and Road Forum for International Cooperation, in Beijing on Thursday.
Under the theme "Working Together for Better Lives: People-to-People Connectivity and Cooperation", the thematic forum is aimed at building consensus and reviving the Silk Road spirit to create a brighter tomorrow, according to Song Tao, head of the International Department of the Communist Party of China Central Committee.
Song said that since the First Belt and Road Forum in 2017, there have been extensive and meaningful exchanges and cooperation between China and other Belt and Road partner countries involving people from all walks of life. "People-to-people connectivity is the important content of the BRI, and it is also the spirit, base and goal of the BRI," Song said.
In the past six years since the BRI was proposed, he said, Chinese tourists have made more than 100 million trips to the countries involved in the BRI, and more than 85 million trips from those countries will have been made to China by 2020.
Song called for cultural win-win situations, openness, inclusiveness and innovation and for more cooperation, not only between governments, but also social organizations.
Mozambican President Filipe Nyusi said at the forum that Chinese and African people have a long history of trading silk, porcelain and gold under the principle of mutual respect and mutual benefit.
He thought the BRI follows that principle and compared it to a diamond, of which infrastructure construction is only one surface. It also includes trade, finance, politics and contacts between countries, companies and people.
President of the National Regeneration Movement of Mexico Yeidckol Polevnsky thought that cooperation can help with the development of economics, politics and culture under the precondition of friendship between countries.
She hoped that China would publish more books about its history and literature in Spanish for Latin American people.
Education is one topic that has been brought up by many guest speakers during the forum. Jeyhun Bayramov, Azerbaijan's minister of education, suggested more cooperation between Azerbaijan and China to cultivate more young specialists.
Tan Kok Wai, special Malaysian envoy to China and national chairman of the Democratic Action Party in Malaysia, noted that there are more academic and cultural exchanges between the two countries and NGOs. He hoped that China could offer more scholarship opportunities to encourage more students to study in China.
According to Tian Xuejun, vice-minister of education, more than 40,700 students from BRI countries have come to China to study with scholarships granted by the Chinese government. Tian said that the next step is to achieve mutual recognition of academic credentials and degrees with more Belt and Road countries, and to build a communication platform for teenagers.
Henrietta Fore, executive director of the United Nations Children's Fund, said the fund wants to bring the experience of the support for children and young people inside China to the world.
Yao Ming, chairman of the Chinese Basketball Association, said the association is communicating with many countries, especially with young people, so he hoped sports would play a more important role in international communication.
The Silk Road Community Building Initiative, a network for NGOs to cooperate among BRI countries, was officially launched at the end of the forum.
The network includes more than 300 organizations from more than 60 countries, and aims to build 500 partnerships and develop 200 programs for people's livelihood in the next two years.