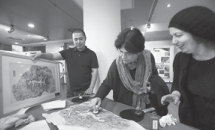 A visitor (center) learns the art of rubbing during the Yinshan Rock Carving Art Exhibition in Athens, Greece. [Photo/Xinhua]
The Yinshan Rock Carving Art Exhibition from China was launched at the Michael Cacoyannis Foundation in Athens on Thursday to introduce the primitive art of petroglyph to a Greek audience.
The global exhibition, supported by the China National Arts Fund and organized by Shenyang Normal University, traveled to Greece from Italy to present a gem of China's prehistoric civilization.
Traced to 30,000 years ago, the art demonstrates how the ancestors of various ethnic groups began to record their lives, express themselves and communicate feelings through rock carving.
In the Yinshan Mountains, which stretch from the Inner Mongolia autonomous region to Hebei province, the rock's surface has been incised, carved or abraded with over 10,000 ancient cliff rock paintings.
The exhibition includes more than 20 sets of rock carving fossil replicas and more than 20 rock carving fossil rubbings.
According to the Chinese delegation, the art pieces are dominated by scenes of hunting and feature a wide range of animals. Many species of which have disappeared from the region, but the paintings act as a testament to their presence once.
"We hope to cooperate more in the long term with Greek culture experts and use this opportunity for more cultural exchange," says Zhang Peng from Shenyang Normal University.
Wang Chao, cultural attache at the Chinese embassy in Greece, says the paintings serve as a reminder of humankind's beginnings. "It's a treasure of ancient Chinese civilization that can bring the two nations closer," he adds.
During the exhibition, visitors will have the opportunity to participate in workshops on rock carving and Chinese rubber stamps.
"We see works of art from the first artists who created engravings, which are among the best in the world," says Mary Schina, painter, printmaker and distinguished professor emeritus at the Athens School of Fine Arts.
The exhibition runs through April 17.