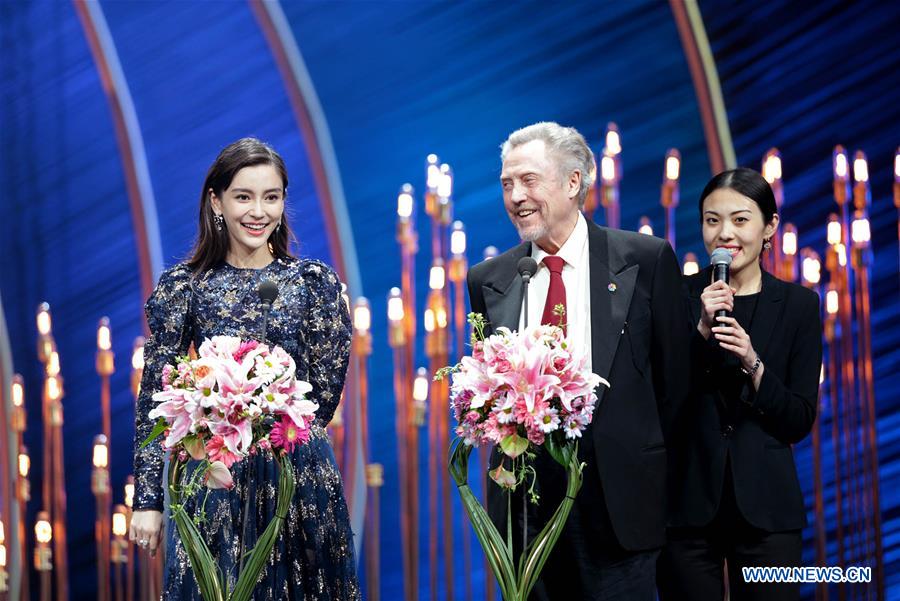 Actress Yang Ying (L) and actor Christopher Walken (C) recommend nominated films at the opening ceremony of the ninth Beijing International Film Festival in Beijing, April 13, 2019. [Photo/Xinhua]
BEIJING, April 13 — The ninth Beijing International Film Festival opened on Saturday evening, with 15 movies contending the "Tiantan Award" prizes.
The festival consists of seven major activities including an opening ceremony, a forum, a film market and the Beijing Film Panorama intended for the public.
Fifteen selected films worldwide will be evaluated by a jury of seven prominent figures in the global film industry and contend for prizes of 10 categories in the festival's "Tiantan Award."
These 15 movies include China's sci-fi blockbuster The Wandering Earth, Sunset (Hungary and France), The Waiter (Greece), The Keeper (Germany and Britain), The Unorthodox (Israel), and Ben Is Back (the United States), and A Fortunate Man (Denmark).
More than 300 smaller activities, such as film concerts and an "Indian Film Week," will be held during the festival, which will close on April 20.