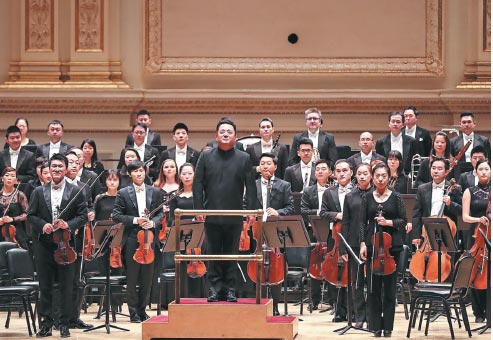 The National Center for the Performing Arts Orchestra made its debut at Carnegie Hall, New York on Oct 30. [Photo/Xinhua]
"Ping-Pong Diplomacy" is a well-known term in the history of U.S.-China ties. But few may be aware that music also played a not to be underestimated part in thawing ties between the two countries.
Although it is commonplace today for artists from the United States and China to share a stage, it definitely wasn't before the 1970s.
The Philadelphia Orchestra is a forerunner on this front, making history with a pioneering trip to China in 1973.
Founded in 1900, the orchestra has a long and distinguished history of touring the world. Its lasting ties with China mark a significant chapter in the orchestra's century-old history.
As cultural ties and people-to-people exchanges between the two sides are flourishing, the Philadelphia Orchestra is continuing to cultivate its ties with China that are rooted in the 1970s as it is preparing for its May visit to China to celebrate the 40th anniversary of U.S.-China diplomatic relations.
HISTORIC TRIP
In 1973, at the invitation of then U.S. President Richard Nixon, the Philadelphia Orchestra became the first American orchestra to visit the People's Republic of China -- a trip considered a key part of Washington's rapprochement with Beijing in the 1970s.
The trip came at a time when "the intensity of the curiosity between the two peoples was easy to see," said Nicholas Platt, a former U.S. ambassador, who was on hand to coordinate the event.
"We were just fascinated by the interest that the peoples in both countries expressed in each other ... And the results were a lot of wonderful exchanges which continue to this day," the veteran diplomat, who is also the orchestra's senior adviser, told Xinhua when recounting the historic visit to China.
It took place in September, only a few months after the U.S. Liaison Office in Beijing was opened, "but it was one of the big highlights of that year," he added.
If Ping-Pong Diplomacy is what paved the way for Nixon's visit to Beijing in 1972 to re-establish official ties with China, the visit by the Philadelphia Orchestra is believed to be one that helped cement it.
Platt said that it was a "smart move" for both sides to initiate people-to-people exchanges even before the official relationship.
That trip was significant "on several different levels: historically, musically, probably most importantly, diplomatically," said Davyd Booth, one of the four musicians from the first tour who is still with the orchestra today.
It was made possible by enormous joint efforts by Nixon, the renowned diplomatic figures Henry Kissinger and Platt, and Eugene Ormandy, the orchestra's music director, Booth recalled.