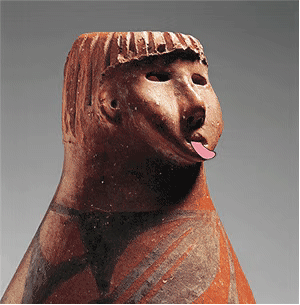 An emoji created by Gansu Museum. [Photo/Official Weibo account of Gansu Museum]
Recently, 16 cultural relic emojis launched by the Gansu Museum went viral on the Internet, part of a campaign to "make cultural relics alive". This includes other measures such as digital displays, setting up dynamic touch screens, and three-dimensional display of cultural relics in the exhibition hall.
The emojis are designed to be dynamic and accompanied by catchwords on the Internet, which makes cultural relics more appealing to younger people. It is hoped people can learn more about the museum and the cultural relics this way.
The emojis have aroused a lot of discussion among netizens, who made comments like "too cute".
Li Yanqiang, director of the Gansu Museum network center, said the emojis do not need to be downloaded separately like software, and have a large audience. The emojis can be used in daily life, and spread quickly.
It took about a month to complete the first 16 emojis. "Cultural relics, after all, are relatively serious and traditional. In the process of making the emojis, we paid attention to the balance between seriousness and entertainment," Li said.
According to Li, Gansu Museum will also launch more emojis in the future, in addition to creative products, hoping to let more people know about the museum and cultural relics.