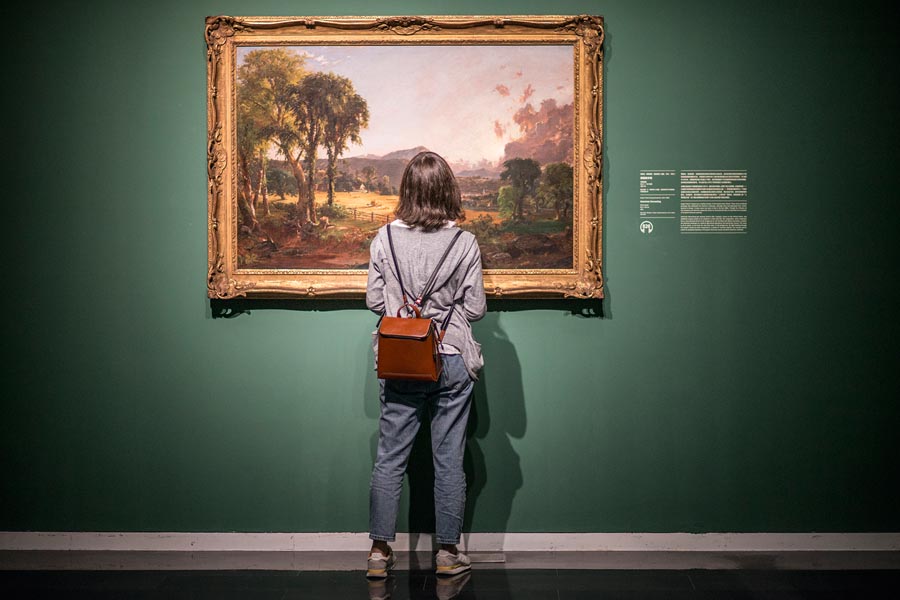 A visitor looks at a painting at the exhibition, which shows 50 landscapes and reviews the influence European masters had on US painters. [Photo provided to China Daily]
Yet, the migrant American painters did not simply transplant these European landscapes into their works. They added a US perspective to better cater to their audience and buyers back home.
They addressed social issues such as the damage to the Native American culture brought about by colonization. George Winter, a painter who was born in England and emigrated to Indiana, created in his painting on show, Indians on the Eel River, a poetic river view that depicts several Native Americans trapped by a flood on an isolated outcrop, which reveals the painter's sympathy for the land's indigenous people.
McComas says while some US painters enjoyed the vibrant artistic environment in Europe so much that they decided to stay there, most returned home to sow the seeds of their art, passing on their experience of Europe to future generations.
Xu says the foundations of American painting were built over time through the work of these artists who introduced the cultural traditions of the European continent to the US. It helped them to create an artistic landscape unique to North America and presented new styles, which future US artists eventually developed into works that rivaled those of their European teachers.
Contact the writer at linqi@chinadaily.com.cn