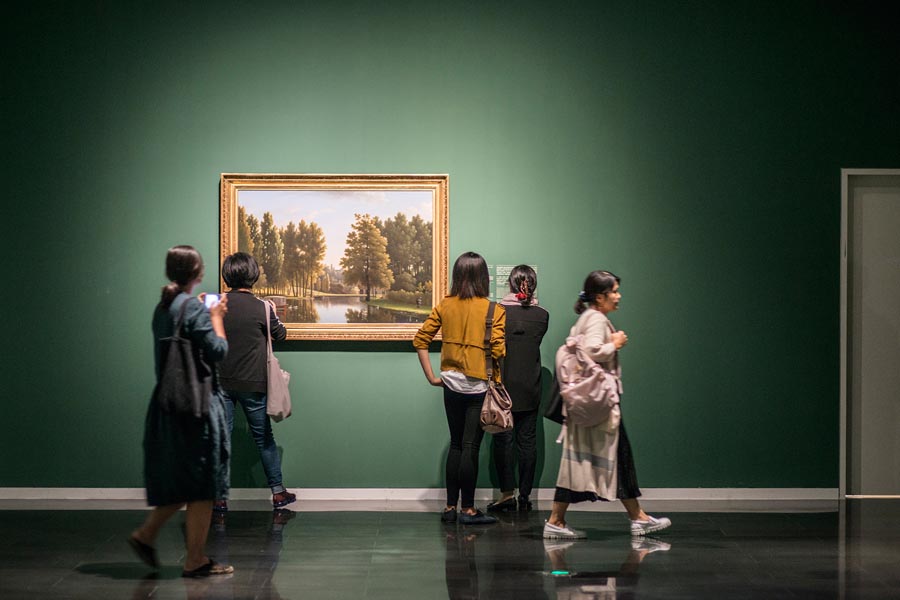 Visitors stop to look at a painting at the exhibition, which shows 50 landscapes and reviews the influence European masters had on US painters. [Photo provided to China Daily]
"Their landscapes are a fusion of natural beauty and pastoral sentiments," says Xu Hong, a chief curator at the Tsinghua University Art Museum.
For those American painters who managed to reach Europe, the most prestigious museums, with their rich collections-from the Louvre in Paris to the Prado Museum in Madrid-became the classrooms where they immersed themselves in the works of European masters.
They attended art colleges in France and Germany, forming communities of migrant American painters and shared their groundbreaking styles and views on painting.
Importantly, they learned from great European artists not to follow rigid rules about depicting what they saw, but instead learned to listen to their hearts with sensitivity and care to capture the movements of nature-the sun, the sky, the drifting clouds and the rising mist.
Xu says the acceptance of a romanticist tendency to add divinity to natural scenes is evident in the works of the US painters on display at the Beijing show.
"The style probably evoked among them the excitement they felt when thinking about the imposing yet desolate landscapes of their home continent.
"The feelings made them reflect on the vulnerability and loneliness of humans in the universe, a sentiment that people today can empathize with."