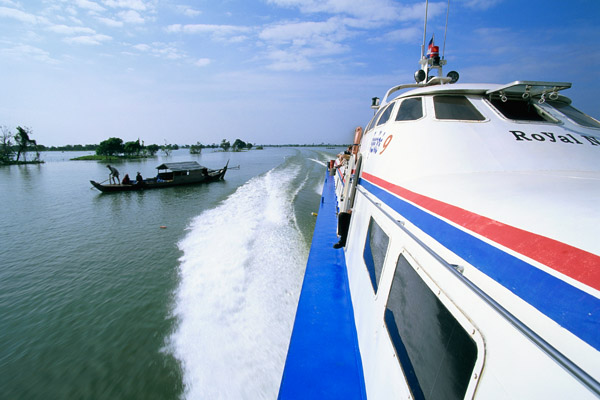 Local people and their families on and along the Mekong in Southeast Asia. PAUL A. SOUDERS/PASCAL DELOCHE/CORBIS
A competition promotes the development of, and collaboration among, the countries in the Lancang-Mekong region, He Wei reports in Phnom Penh, Cambodia.
Used plastic bottles become building blocks. Banana stems are turned into handicrafts. And a social-credit system rewards environmentally friendly behavior.
These are some of the prototype solutions aimed at addressing environmental issues and empowering development in the Lancang-Mekong region.
The proposals, however, were not put forward by international development agencies. Instead, they are proposals put forward by university students from six countries along the river, who submitted research projects.
Welcome to the Youth Innovation Competition on the Lancang-Mekong Region's Governance and Development, which recently staged its fourth iteration since its debut in 2016. Attended by 60 students from China, Laos, Myanmar, Thailand, Cambodia and Vietnam, the four-day event from Jan 23 to 26 is designed to offer a chance to broaden the students' international vision and foster innovation and entrepreneurship.
"The competition marks a substantial implementation of the Belt and Road Initiative and brings in fresh forces to create a new model for global governance," said Jiao Yang, chancellor of Fudan University, a key organizer of the event, at the opening ceremony in Phnom Penh.
The event also came at a time when China-Cambodia relations received a boost after President Xi Jinping met with Cambodian Prime Minister Samdech Techo Hun Sen in Beijing in January and pledged to deepen cooperation in such realms as education and youth exchanges.
"When the likes of the United Nations established a set of targets for achieving sustainable development, one thing is for sure: The scale, scope and complexity of economic and social transformation require concerted efforts from various sectors, and that's when the power of the youth steps in," says Chen Zhimin, vice-president of Fudan University.