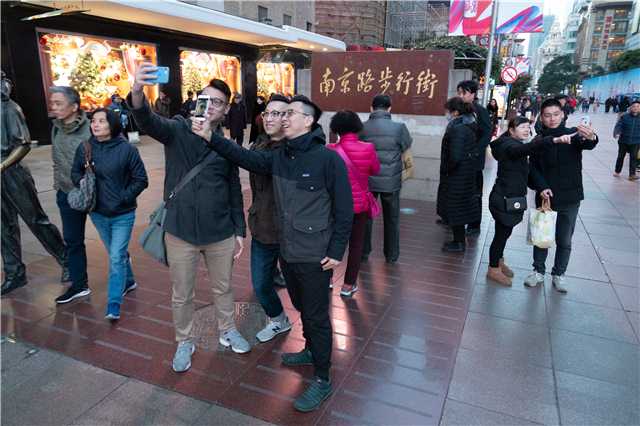 Tourists pose for photos on Shanghai's East Nanjing Road, one of the city's busiest commercial centers. [PHOTO BY GAO ERQIANG/CHINA DAILY]
The Yangtze River Delta region has achieved much progress in terms of tourism and shopping integration, according to a new research report. The region includes Shanghai, and Jiangsu, Zhejiang and Anhui provinces.
The Consumption Power Index of the Yangtze River Delta Cities released on Nov 26 states that cross-city tourism and shopping have become the norm across the region, with a relatively balanced two-way flow of travelers and shoppers among cities in the area.
"Reasons behind this flow include the increasingly interwoven traffic network and the various efforts different cities have taken to attract travelers by leveraging their natural, cultural and healthcare resources," says Zhang Yina, an associate professor at Fudan University involved in the report, who refers to such events as the annual Wuzhen Theatre Festival in Wuzhen town in Zhejiang's Jiaxing city.
Conducted by the Big Data Application Committee of the Yangtze River Delta Urban Economic Coordination Committee, the research was based on China UnionPay data from 34 cities in the delta in 2017. The report focused on four key aspects of cross-city spending within the region- tourism, shopping, medical treatment and property.
The report found that Shanghai tops the tourism index with a score of 418. According to the report, the higher the index figure, the higher the revenue earned from people living in places outside of the city but within the delta.
Shanghai is followed by Hangzhou, Hefei, Nanjing, Suzhou and Ningbo, with index scores between 100 and 300.
With regard to how much people spend on shopping in cities other than their own, Shanghai tops the rankings with a score of 2,178. Hangzhou came in second with 1,270.
"Shanghai, which carries commerce in its genes, is undoubtedly a shopping hub," Zhang says. "But the indexes also show an overall boom in cities in Jiangsu and Zhejiang as shopping destinations."
On the other hand, the flow of spending on medical treatment and property is still relatively one-way, with Shanghai still being the preferred destination for medical services.
According to Zhang, full integration means every resident in the region has equal access to public services.
"The final goal is to remove the administrative boundaries, allowing people across the region to enjoy high-quality resources, such as the best doctors and medical services," she says.