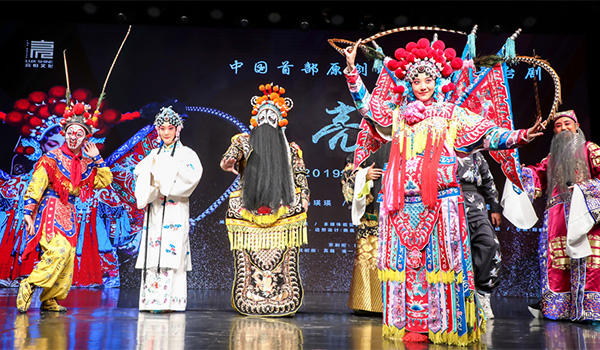 Performers of the new Peking Opera production, Liang Xiang, strike a pose onstage at Tian Le Yuan Theater in Beijing on Dec 19. [Photo provided to China Daily]
The reopening of an old theater in Beijing may mark a revival for Peking Opera, especially with shows infusing contemporary elements such as hip-hop and ballet, Chen Nan reports. 
The grey-brick Tian Le Yuan Theater in the capital's ancient Qianmen area has served as a stage for creative culture since 1785-and will reopen in March, after six years of renovation. Peking Opera master Mei Lanfang (1894-1961) performed there for four years, starting from age 17. Cheng Yanqiu (1904-58), who shared the title of the four great dan roles with Mei, Shang Xiaoyun (1900-76) and Xun Huisheng (1900-68), premiered four of his classic Peking Opera shows there from 1923 to 1927, including The Legend of Hongfu and A Red Mole.
The famed artists were performers of nandan-that is, men who played female roles because women were then forbidden to appear onstage.
The theater also produced one of the country's first female Peking Opera troupes, Chong Ya She, in 1916.
Tian Le Yuan will present a new Peking Opera show, Liang Xiang, as its resident performance.
The show will debut at the Tianqiao Performing Arts Center on Jan 18 and run through Jan 20 before moving to Tian Le Yuan.
The 5,000-square-meter Tian Le Yuan Theater will also host exhibitions of historical photos and other displays about Peking Opera. Visitors can don stage costumes and makeup.
Tan Zhengyan, who belongs to the seventh generation of the distinguished Tan family in Peking Opera, will open the show, playing the role of Guan Gong, a legendary and mythical figure worshipped by many Chinese as a symbol of safety and wealth.
The new show tells the story of a struggling 1930s Peking Opera troupe that has survived until today. Classic Peking Opera pieces such as Farewell My Concubine and The Drunken Concubine will mix in contemporary performance arts like hip-hop and ballet.
"I am prepared for different reviews-positive and negative," Tan says.
The 39-year-old started learning the art form as a child and has performed with the Jingju Theater Company of Beijing since 2001. Jingju refers to Peking Opera in Chinese. Members of the Tan family, which began to flourish in Peking Opera circles in the 18th century, are known for playing laosheng (elderly male) roles.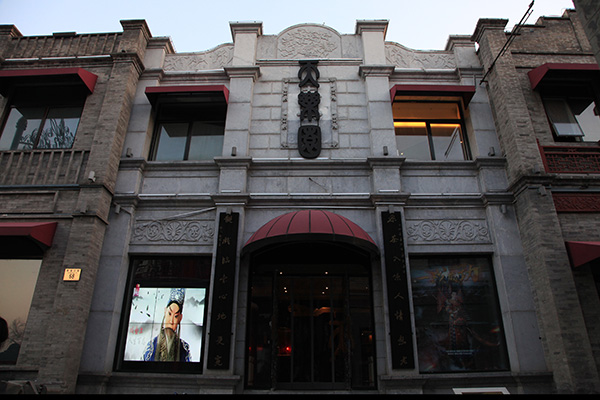 Tian Le Yuan Theater, which is located in the capital's Qianmen area and has a history of more than 200 years, will reopen in March. [Photo provided to China Daily]
"East-meets-West stage productions have been controversial," Tan says.
"The most important thing to me is to maintain the core of Peking Opera, including the singing, the movements, the costumes and the makeup."
Peking Opera has been struggling like many traditional arts in recent years. Artists have enjoyed fewer performance opportunities as the demand shrinks. Many performers work part-time jobs or simply quit.
"We've seen a revival in recent years, thanks to government support," Tan says.
"Crossover shows may attract more audiences, especially young people."
Liang Xiang refers to a movement in which Peking Opera performers strike poses. It's also the Chinese name of the company producing the show.
Former TV host Ma Yingying founded the company, Lux Shine Culture Media Co, in Beijing four years ago. The 36-year-old fell in love with Peking Opera after hosting a TV program about it.
She has tried to give it a modern edge by combining the ancient art form with contemporary elements, including fashion catwalks.
"We want to make the show exciting and relevant to today's young people, who've never watched Peking Opera before," Ma says.
She adds that the show's creative team members are in their 20s and 30s, including the director Liu Nengyi, who graduated from the Central Academy of Drama, and scriptwriter Wu Hao, who graduated from the National Academy of Chinese Theater Arts.
"I hope the reopening of this historical theater and the new show will enliven this ancient art form," she says.
Contact the writer at chennan@chinadaily.com.cn