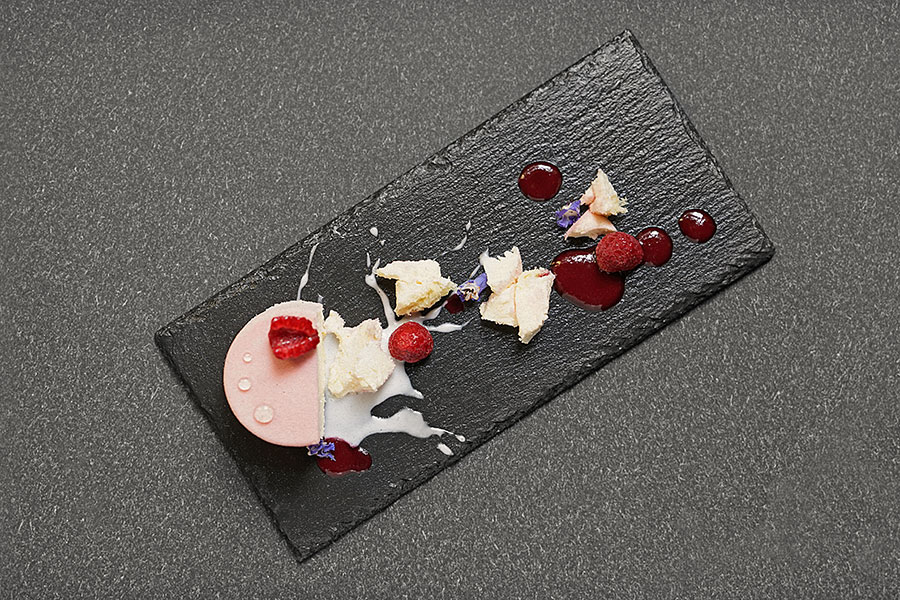 Ology's dishes are inspired by the 10 Heavenly Stems and its dessert reflects the dichotomy of yin and yang. [Photo provided to China Daily]
The food is no less impressive. The appetizer made up of three bite-sized delicacies - wafer sprinkled with pumpkin seeds, broccoli in deep-fried batter, and a hollowedout tomato filled with balsamic vinegar and brown sugar - did well to whet the appetite. The dish, says Fu, reflects the cycle of life, from seed to flower to fruit.
Some of the other standout dishes include the seasonal white fish which is deep-fried before being rolled up with a mix of shredded shiitake and rapeseed, as well as the succulent Australian Angus filet mignon that is complemented with a side of eggplant and a sauce made of plum and calendula flower, and served on a plate resembling a square inkstone so the dish looks like a Chinese calligraphy work.
For dessert, Ology serves up a mantou, a steamed bun, that comes with two sides to represent the dichotomy of yin and yang: a black half topped with black sesame paste and a morsel of squid ink, and a white half coated with condensed milk. The same could be said for the textures. The deep-fried bun is delightfully crisp on the outside but soft and fluffy on the inside.
Fu says that current trial menu would soon be replaced with a new menu that would have a stronger focus on using local produce, though the theme would remain the same. One ingredient he's looking forward to working with is zhenmo (Arimillaria Mellea), a variety of wild mushrooms from Changbai Mountain in northeastern China.
"The new ingredients that I am going to incorporate are not necessarily expensive, but they will be unique to Chinese food culture, be it zhenmo, ginseng or pickled cabbages," he says.