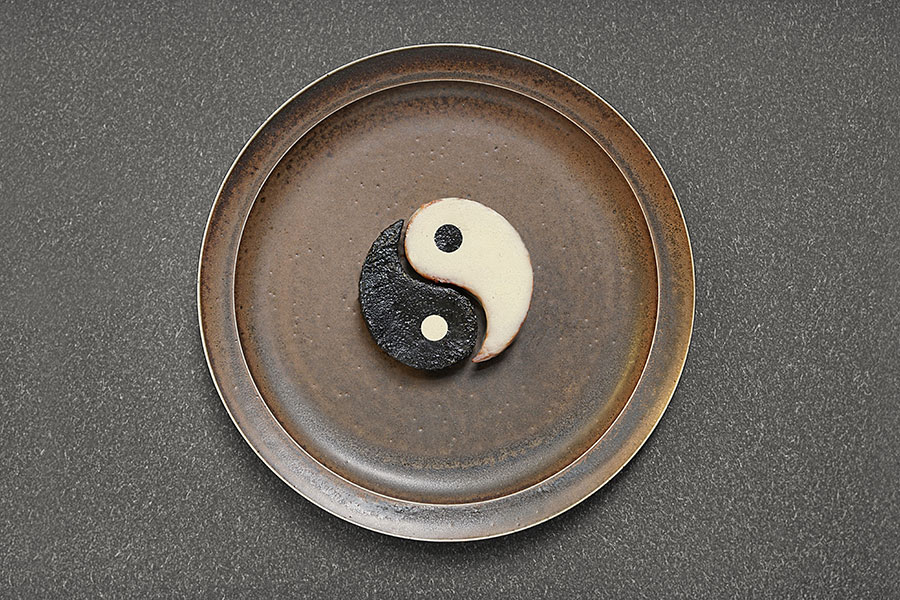 Ology's dishes are inspired by the 10 Heavenly Stems and its dessert reflects the dichotomy of yin and yang. [Photo provided to China Daily]
In terms of their food offerings, Ology only has one set menu priced at 399 yuan ($57.9) which is inspired by the 10 Heavenly Stems, an ancient calendrical system to codify time, patterns of life and of the universe that dates back to more than 3,000 years ago. Each of the 10 dishes featured corresponds to these stems, namely Jia, Yi, Bing, Ding, Wu, Ji, Geng, Xin, Ren and Gui.
Likewise, Ology's alcohol selection is based on the concept of the Earthly Branches, with its 12 housemade beverages named after the 12 Earthly Branches. The impressive infusions include watermelon with tequila, apple and beer infused with Citadelle original gin, peach, honey, as well as Lapsang black tea infused with rum.
Fu, who had spent a decade working in five-star hotels in China before opening his own bar, certainly knows what he's doing when it comes to beverages. After all, his Long Jing bar, which is situated just across from Ology, is renowned for its unique blends of Chinese tea and Western spirits.