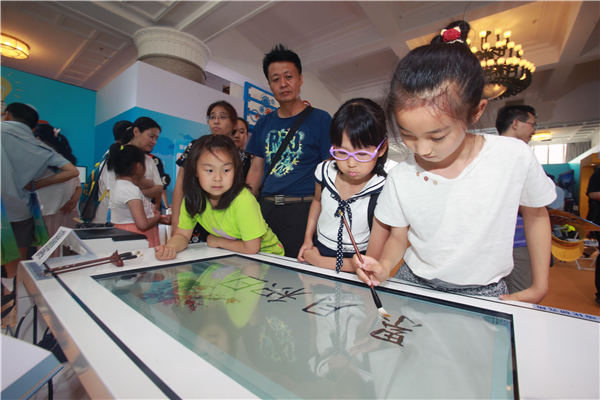 A girl tries her hand at writing Chinese calligraphic characters on an electronic screen during the national science and technology week in Beijing last May. [Photo by Chen Xiaogen/for China Daily]
A renowned senior calligrapher hails practicing Chinese characters on apps.
"Every day when I go out, I carry an iPad and a digital pencil with me," says Chang Ping-huang, a calligrapher from Taiwan, when introducing his new toolkit for practicing Chinese calligraphy.
Chang is best known in Taiwan as the host of a TV program that aired back in the 1980s when, each day he would teach the audience to write one Chinese character with ink and brush. The show aired for two decades, and he taught viewers nearly 7,000 characters.
With the advent of the digital era, the calligrapher and educator is marrying modern technology with the ancient writing art.
Chang, who has been a professor of Chinese language at Tamkang University for many years, says he now finds that students tend to spend much more time on computers and cellphones than writing on paper, and even less time on calligraphy.
"It was quite a blow to me," says Chang. "So I started to think about how to use technology to kindle interest in calligraphy among young people."
So Chang learned to use a computer and worked with the department of information engineering at Tamkang University.
Six years after they began working on the initiative in 2001, they came up with a system they call "e-pen".
However, this system was not perfect.
With a computer and a touchpad, the movement of the strokes could be captured, but the eyes had to focus on the screen instead of the hands. It did not feel like writing calligraphy.
Then, thanks to the tablet computer, an updated "e-pen" was born.
Now, equipped with pressure sensors, the tablet detects the tiniest details of each stroke of the stylus and visualizes it on the screen in real time. What's even better is that people can now look at the screen and their hands at the same time.
The new "e-pen" app was launched in September and soon topped Taiwan's weekly download rankings. Simultaneously, it has also become popular on the mainland.
The e-pen app is for anyone with an interest in learning Chinese characters, says Chang, adding that it is growing in popularity in the United States, Japan, Canada and South Korea.
When practicing Chinese calligraphy, traditionally, people had to take time to prepare the ink, brush and paper.
So Chang says that with this convenient digital toolkit, people who used to have little interest or were not that willing to learn will be able to take the first step into the world of calligraphy.
"We did not digitalize Chinese calligraphy to make the brush and ink obsolete," says Chang, pointing to scrolls of calligraphy works hanging on the walls in his studio in Taipei.
For Chang's calligraphy class, he combines traditional teaching methods with modern technology, and the students' spirits are much higher.
Chang decided to be an educator for Chinese calligraphy very early on.
When he was a child, Chang had very poor handwriting, and it was only the encouragement from his teacher that set him on the path of calligraphy.
Since then, he has been a keen promoter of this art, teaching on TV and by correspondence and taking part in various activities to pass the tradition forward.
He also says that he is impressed by the efforts to promote Chinese calligraphy on the mainland, where many students get to learn about calligraphy in classrooms.
To keep the tradition alive, Chang hopes more young people across the Taiwan Straits will learn more about calligraphy with the help of new technology, and maybe even fall in love with it.