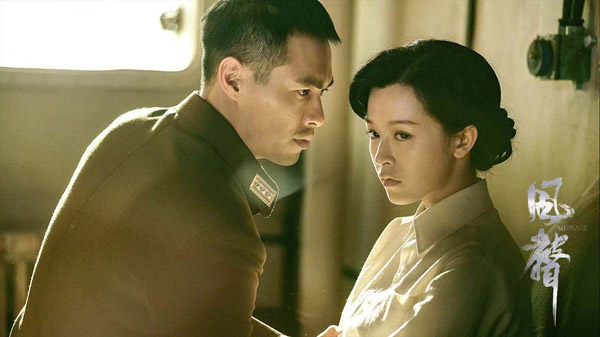 Taiwan actor Tony Yang and Hong Kong actress Janice Man [Photo provided to China Daily]
A thriller set in 1940s China, based on a novel written by the author Mai Jia, is set to be serialized on the small screen.
Postproduction of The Message is nearly completed and it will be released in 2019, it was announced at a seminar of the China Television Artists Association on Saturday.
The Message is the first project being entirely produced by Shanghai-based Tencent Penguin Pictures, an affiliate of Chinese tech company, Tencent Holdings Ltd, and will premiere on v.qq.com, the company's streaming platform.
The original novel was first released in 2007 as a series in the magazine People's Literature but gained a wider audience when, in 2009, the book was adapted into a film with an all-star cast, which included Li Bingbing, Zhou Xun and Zhang Hanyu. A TV adaptation followed in 2011.
Focusing on a hidden battlefield of the War of Resistance Against Japanese Aggression (1931-45), the story sees intelligence operatives from Japan and its puppet-government in China hunt for a Communist secret agent, code-named Lao Gui ("old ghost"). As the plot unfolds, the undercover heroes have to skillfully evade the search and attempt to keep their communication network safe.
The new 38-episode production is expected to have fresh approach to the story.
"I was a little worried when I first took the project since everyone who watched the previous film knows who Lao Gui is," Li Yunliang, director of the new series, says. "There aren't more secrets, and we had to add something new."