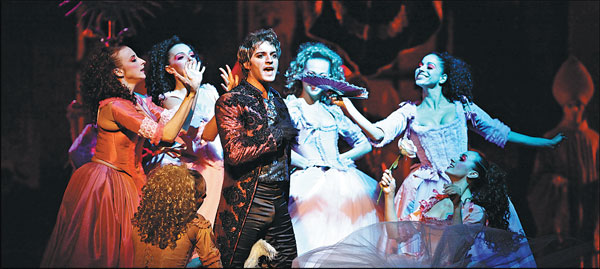 Tianjin Grand Theater has included a varied repertoire for the autumn and winter season. Provided to China Daily
Tianjin Grand Theater has announced its offerings for the upcoming autumn and winter season and they comprise a varied repertoire of classical music, drama, dance and traditional Chinese opera.
According to Beijing Poly Theatre Management, which took over the theater's management last year, the Vienna Philharmonic will perform at Tianjin Grand Theater on Nov 26 and 27 as a part of its three-city China tour which also includes shows at Guangzhou Xinghai Concert Hall on Nov 29 and 30, and Shanghai Oriental Art Center on Dec 1 and 2.
Under the baton of conductor Franz Welser-Most, the orchestra will play repertories including The Magic Flute Overture by Wolfgang Amadeus Mozart, Carnival Overture by Antonin Dvo rak and Double Concerto in A minor by Johannes Brahms. It will be the Austrian conductor's debut performance in China. Chinese pianist Lang Lang will also be a part of the tour.
In 2005, Lang performed The Piano Concerto No. 1 in B minor, Op. 23 by Pyotr Ilyich Tchaikovsky with the Vienna Philharmonic under the baton of Zubin Mehta. That same year, he made his debut performance at the Wiener Musikverein. The pianist has since been collaborating with the Vienna Philharmonic in concerts and album recordings.
On Nov 28, Theatre des Bouffes du Nord will bring its production of Italian composer Giuseppe Verdi's opera La traviata. It would be the first time the production is staged in China.
Conceived by Benjamin Lazar, Florent Hubert and Judith Chemla, the production is directed by Lazar, who blends theater and opera, dialogue and song, and blurs the line between instrumentalists and singers.
Led by artistic director Yuri Fateev, the Mariinsky Ballet will perform the classic Russian ballet Swan Lake by Pyotr Tchaikovsky at Tianjin Grand Theater from Dec 12 to 14.
Award-winning French musical, Mozart, The Rock Opera, which combines pop, rock and Wolfgang Amadeus Mozart's music to tell the life of the famed composer, will be staged in Tianjin from Dec 29 to 31. The musical, which premiered in Paris in 2009, is directed by Olivier Dahan and choreographed by Dan Stewart. It will also tour other Chinese cities including Beijing and Shanghai till early 2019.
On the last day of 2018, the Vienna Symphony Orchestra will perform a New Year's Eve concert under the baton of Italian conductor Guido Mancusi at Tianjin Grand Theater. The performance will feature repertories including Johann Strauss II's Der Zigeunerbaron, Antonin Dvor ak's Slavonic Dance Op. 72 No. 2 and Csardas by Vittorio Monti.