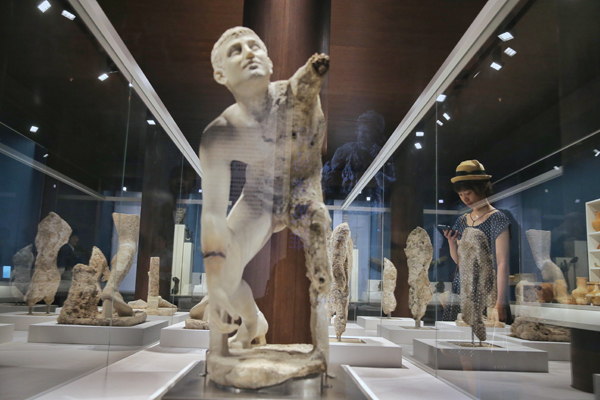 A marble statue of a boy found on a Antikythera shipwreck is also part of the same exhibition being held at the Palace Museum. [PHOTO BY JIANG DONG/CHINA DAILY]
Ancient relics recovered from a ship that sank in the Aegean Sea more than two millennia ago are on show in Beijing, Wang Kaihao reports.
While a single tragedy in the first century BC may seem trivial in the context of human's long maritime history, a stroke-of-luck discovery two millennia later brought the event to renewed prominence.
It started when a Greek ship was swallowed up by the waves of the Aegean Sea after setting off from today's Anatolia in Turkey to Italy, not far from the Greek island of Antikythera, near which the accident happened.
In 1900, as another storm forced a boat of sponge divers to haul anchor off the coast of Antikythera, the captain returned from one dive not with a sponge in hand, but a bronze statue.
Large-scale underwater excavations soon followed and through these an amazing hoard of Hellenic relics were uncovered 50 meters below the sea's surface.
And now, the unfinished voyage of that ship has finally been completed-and even extended beyond its original destination-thanks to The Antikythera Shipwreck exhibition that opened at the Palace Museum in Beijing on Sept 14.
The skeletons of a man, a young woman, and a teenager whose gender remains unidentified, were retrieved from the ship, which is estimated to be 30 meters long and 10 meters wide, making the ship the world's earliest known shipwreck containing human remains, according to Maria Lagogianni-Georgakarakos, the director of the National Archaeological Museum of Athens, Greece, and curator of the Beijing exhibition.
An abundance of "funerary objects"-from articles of everyday use such as pottery, glass vases and coins, to luxurious artworks like marble statues, bronze figures and jewels-retrieved from the site of the shipwreck are all included in the exhibition.
It's a story about how conquerors venerated the rich culture of the regions they ruled.
"Although archaeological research has not yet reached definite conclusions about the provenance of the workshops behind the sculptures nor the manner of their acquisition," the curator says, "it's certain that their final destination involved established art markets in Roman Italy.
"The people there had a thirst for high quality Greek art and technology," she adds.
The fragments from the bronze statue are one of the highlights of the 343 artifacts on display at the ongoing exhibition.
Although only the head, arms, feet and some pieces of clothing survive, the enticing glamour of its original form is easy to imagine, particularly through its vividly-portrayed face and deep eyes.
This statue of an elderly sage is estimated to have been forged around 230 BC, more than a century before the ship capsized, and is believed to have once been displayed in a public area.