Chinese are celebrating Mid-Autumn Festival on Monday - an annual festival that falls on the 15th day of the eighth month of the Chinese lunar calendar.
Traditionally a harvest festival to worship the moon, Mid-Autumn Festival, also known as the Moon Festival, has developed into a day for families to gather for a reunion.
People across China will enjoy a three-day holiday, with many packing their bags and traveling long distances to reunite with their families. To celebrate the day, they will share mooncakes, which are traditional festive Chinese pastries, and gaze at the full moon, if weather permits.
What are the festival's origins? Over the centuries, there have been different versions of the folklore behind it. Among them, the story of Chang'e is the most widely known.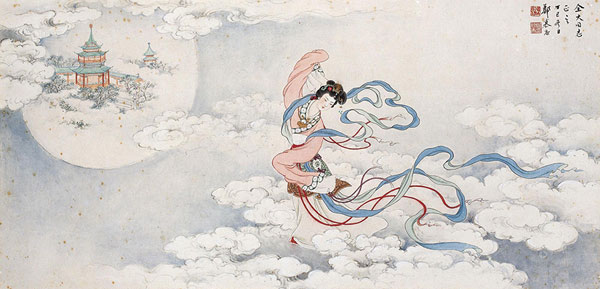 An ink painting by Chinese artist Zheng Mukang depicts the goddess Chang'e flying to the moon. [Photo/artron.net]
Chang'e flying to the moon
Chang'e is the Chinese goddess of the moon who consumed an elixir of life before flying to the moon.
According to the most famous variation of the story in Chinese mythology, in ancient times, 10 suns shined simultaneously in the sky, creating scorching heat on earth: plants were burnt and humans faced death.
Hou Yi, Chang'e's husband and a valiant archer, was able to shoot down nine suns and saved the planet. As a reward he was given an elixir of immortality, but it was only enough for one person.
The archer didn't take the elixir since he didn't want to be separated from his beloved wife, but instead, he asked her to put it away.
After his epic deeds, Hou Yi gained instant fame and respect nationwide and a large number of people flocked to his home to learn his archery skills.
However, an immoral man named Peng Meng was in the throng of people, but only wanted the elixir.
One day when Hou Yi was leading his students outdoors to hunt, the cunning Peng said he was sick and stayed behind. He sneaked into the couple's room to steal the elixir but Chang'e caught him.
Peng tried to force Chang'e to hand over the elixir but she swallowed it and started to floated up to the sky, all the way to the moon.
Legend has it that she chose to stay on the moon, the closest planet to the earth, so that she could stay nearer to her husband.
Hou Yi was heartbroken by her departure. He immediately set up an incense table in his garden and laid out Chang'e favorite foods to pay tribute to her. From then on, people began to worship the moon.