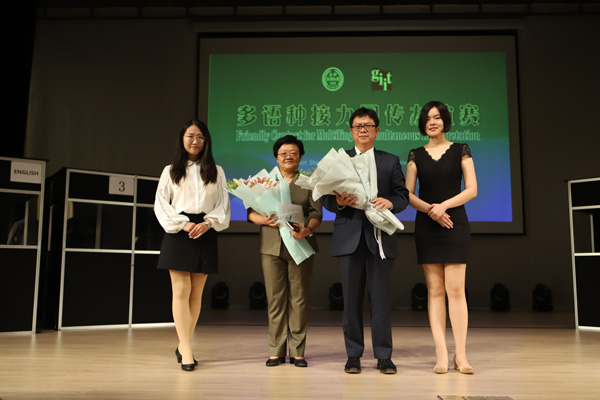 Organizers Li Yansong (second from right), president of Shanghai International Studies University, and Zhang Ailing (second from left), dean of the university's Graduate Institute of Interpretation and Translation, at the contest. [Photo provided to China Daily]
Li also said that there is no need to worry about the threat from machine translators.
"What artificial intelligence can do is tackle the repetitive, technical and boring stuff. However, it always depends on human intelligence when it comes to politically sensitive matters and those carrying deep emotions," Li said.
"I believe an outperforming interpreter can help two speakers of different languages become friends, which can be hardly achieved through an intermediary in the form of a machine," he said.
Another reason to stay away from the fear brought by AI translators is that the overall demand for translation has surged in recent decades, Li said.
"Forty years ago, only 200 professional interpreters were needed in China, mainly to handle government document. But today interpreters for multiple languages are needed in a variety of industries," he said.
Foreign judges at the contest said they were impressed by how seriously the participants took the contest and their high standards of professionalism.
"I don't understand Chinese so I cannot give opinions about the accuracy of what they are doing. So I focused on mostly the professionalism of how they sound. It determines how interpreters make listeners feel that what they are telling is trustworthy and reliable," said Alison Graves, head of Multilingualism and External Relations at the European Parliament.
Graves said the best advice she could give to the students was to work hard through constant practice and never stop learning.
"This is an incredibly demanding job so they really need to put in the work to ensure that they are fully up-to-date with everything that is going on," she said.