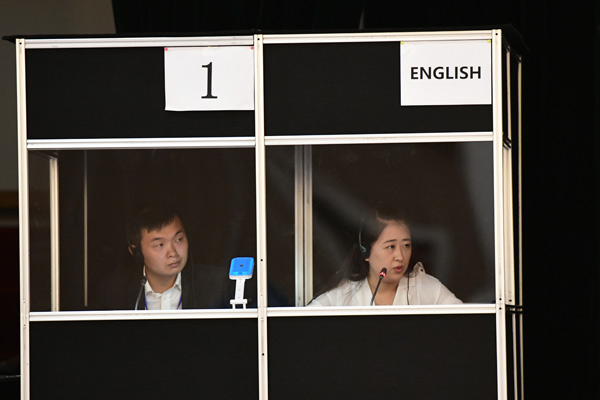 Contestants participate in the Friendly Contest for Multilingual Simultaneous Interpretation at Shanghai International Studies University on Sept 4. [Photo provided to China Daily]
A contest for foreign language majors offers future interpretation professionals the chance to respond to real-world situations, Zhou Wenting reports.
Students majoring in foreign languages at 22 Chinese universities gathered in Shanghai for the Friendly Contest for Multilingual Simultaneous Interpretation on Sept 4, in a bid to prepare future translation professionals with real-life situations and experiences.
During the contest, which was hosted by the Shanghai International Studies University and the first of its kind to be held in the country, English majors interpreted the dialogue from a real-time English video into Chinese, while their schoolmates majoring in the Japanese, Korean, and Arabic interpreted the Chinese into their specialist languages.
Since many of the current high-level international conferences rely on the real-time interpretation in multiple languages, the contest offered young interpreters the chance to respond to real-world situations, said Li Zhengren, executive director of the expert committee of the Yangtze River Delta Forum of Educating Languages Professionals for International Organizations, which the contest was a part of.
"Just as we hope to cultivate more talent for international organizations and to respond to the demands of the country's Belt and Road Initiative, it will never be enough just for us to focus on the English language, despite its relative importance," said Li, who is also the former chief of the Interpretation Service at the United Nations Office in Geneva.
Contestant Li Ran, a senior student from the Arabic language department of the Guangdong University of Foreign Studies in Guangzhou, Guangdong province, said that the department was established in 2007 and around 20 students are enrolled each year.