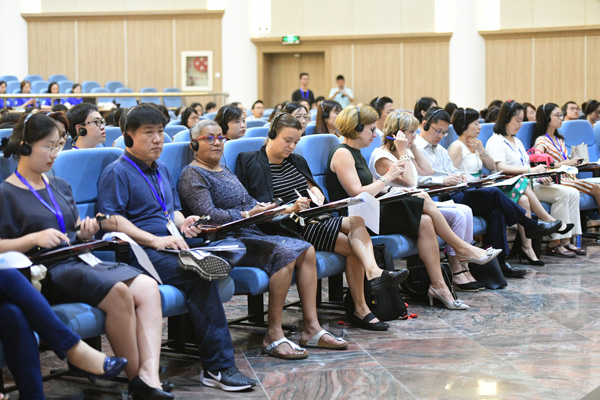 Judges from China and abroad listen to the contestants. [Photo provided to China Daily]
"Our university has been making efforts to recruit excellent teachers every year and we feel the school's ambition to build up its foreign language department is getting stronger," said Li, one of the 104 contestants.
Gao Li, another contestant and a graduate student from the Arabic-English-Chinese Interpretation Department of SISU, said the department was initiated three years ago.
"Some of my classmates are from Arabic countries and we believe this course will greatly contribute to further bilateral exchanges under the Belt and Road Initiative," she said.
Wang Xinying, a contestant from the Graduate Institute of Interpretation and Translation at SISU, said it was crucial for interpreters to study the background of the subject under discussion in order to fully understand what the speaker wants to express from his or her own perspective.
"What interpreters do is absolutely much more than just word-by-word translation. Rather, the viewpoint, tone and emotion of the speaker also need to be conveyed and the identity of the speaker and who the audience are must be taken into consideration," said Wang, who along with her classmate Zhong Hao won first prize in the contest. They are both majoring in English conference interpretation.
This is also the advantage interpreters have over translating devices that rely on artificial intelligence technology, said Zhong.
"For example, it's hardly possible for these devices to find whether the speaker is hinting at something sarcastic," she said.