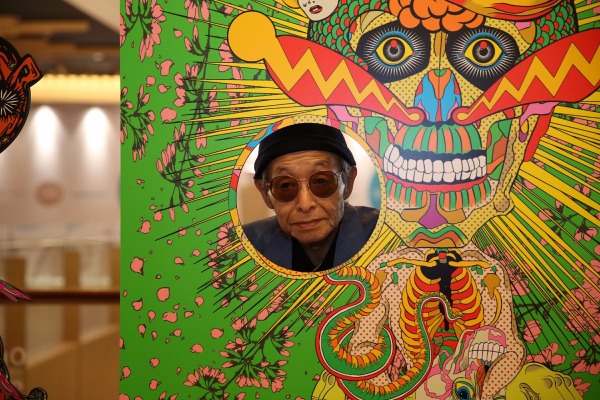 Japanese artist Keiichi Tanaami poses at his solo exhibition in Guangzhou.[Photo/Courtesy of Keiichi Tanaami and Chi K11 Art Space]
The works of Japanese artist Keiichi Tanaami, 82, often capture an audience's imagination at first glance with their dazzling color schemes and the compact composition of their subjects.
Yet underneath these fantastic and at times weird scenes set out in his vivid creations, Tanaami, a leading figure in postwar Japan's artistic landscape, dwells on the topic of life and death. He juxtaposes elements of pop culture with his childhood experiences of World War II and the hallucinations as a side effect of medication in his 40s.
Tanaami's eponymous exhibition, currently running at the chi K11 art space in Guangzhou, Guangdong province through Sunday, charts his artistic course through his paintings, prints, collages, sculptures and designs since the 1960s.
The Tokyo-born artist gained initial fame as a successful commercial illustrator and graphic designer after he graduated from Musashino Art University in 1960. His encounter with several avant-garde artists in Japan, including Ushio Shinohara, encouraged him to venture into art.
Tanaami's works, between the 1960s and '70s, showed the deep influence of American pop artists Roy Lichtenstein and Andy Warhol, and featured symbols associated with global pop culture and rising consumerism.
Gradually, however, Tanaami charted his own path to forge his own style, borrowing elements from popular Japanese culture. Venus Lau, the exhibition curator and artistic director of the K11 Art Foundation, says before being introduced to these prominent pop artists from the West, Tanaami's studies of the imagery of mass culture had already begun.
She says Tanaami's works show that he has drawn inspiration from everyday Japanese cultural products such as tatebanko - the art of making paper dioramas dating back to the Edo period - and kamishibai, a popular form of street theater and storytelling from the early Showa period; and combined them with the trademarks of time-honored brands.
"His creations are more than about simply transplanting emblems of pop culture," Lau says. "His works infuse his individual experience of life with the aesthetic view of a social collective."
Ready-made images from cultural products constitute only a small part of Tanaami's output. He has drawn greatly from the traumatic experiences of his childhood.
In an interview with Tate Modern in September 2015, when Tanaami was featured as part of The EY Exhibition: The World Goes Pop at the London gallery, he said the horrific memories of watching Tokyo being destroyed by devastating air raids between 1942 and 1945 continue to haunt him to this day, decades after the war ended.
"It almost feels like yesterday, although it was far away in the past," he recalls.
Tanaami incorporates these frightening recollections into his work, from the recurring image of B-29 bombers to the reflections of an explosion in a goldfish tank at his grandfather's house and roosters terrified by the oncoming approach of bombers overhead.
Later, he added images from hallucinations emerging because of an intake of strong medicine, after he was severely ill and hospitalized for months.
Lau says she once asked Tanaami whether it was a way of self-healing that he returned, in a creative way, to those unhappy experiences of the war and the illness that nearly led to his death.
"He said that wasn't the case. He was simply interested in how he could reorganize his memories," she says.
Tanaami puts images of different times, and from different cultures, into packaged units to achieve a highly expressive, intense effect that first arouses strong feelings of confrontation in the audience, before eliciting a yearning for peace.
Tanaami's exhibition is being held in a popular shopping center in Guangzhou.
Tanaami says it is not unusual to hold art exhibitions in shopping malls, and the situation is quite common in Japan, where art shows and spaces appear in commercial compounds, such as the Mori Art Museum.
The art museum is located in the 54-story Mori Tower, a building which includes office space, restaurants and retail outlets in the bustling Roppongi district of Tokyo.
Tanaami says he saw young people in K11 taking photos with posters from his exhibition on every floor of the mall and in front of a wall showing digital projections of his work.
He says there is no future for art if it remains too far out of the reach of ordinary people.
"Only when art walks close enough by people's sides, can it find the right direction to progress further."
If you go
10 am-9:30 pm, through Sept 2. chi K11 art space, 4th floor of Guangzhou K11, 6 Zhujiang Dong Lu, Tianhe district, Guangzhou.