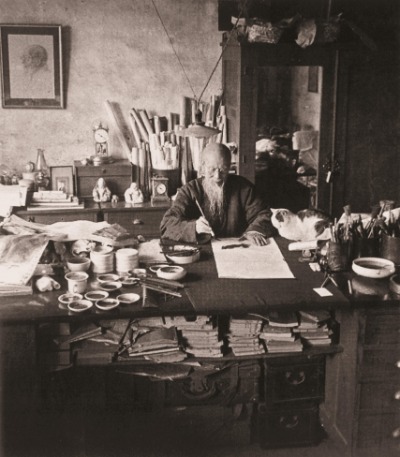 Qi Baishi paints at his Beijing residence, accompanied by his cat.[Photo provided to China Daily]
Qi Baishi's landscape paintings are ruling the exhibition circuit in China decades after being criticized for not following convention, Lin Qi reports.
Qi Baishi, the late ink artist, won the hearts of generations of Chinese with his paintings in two main styles - gongbi, where details of the subject are captured by brush strokes, and xieyi, a more sketch-like approach. His works depict butterflies, bees, dragonflies and birds in the gongbi style, amid flowers, fruits and vegetables in the xieyi style.
Yet Qi (1864-1957), who had a successful career in the flower-and-bird genre, was criticized for his landscape pieces for not conforming to the conventional style that Chinese painters before him followed with their mountain-and-water paintings. Qi once said that he faced "strong disapproval from mainstream artists, which nearly made me quit".
But today his landscape art is being recognized by both artists and collectors. In fact, one such piece, Twelve Screens of Landscapes, fetched 931 million yuan ($135 million) at a Beijing auction in December, making it the most expensive Chinese artwork ever sold. Three of his five top paintings sold at auctions were landscapes, too.
The Twelve Screens of Landscapes is actually an album of paintings that he completed in 1925 and gave to a doctor who had treated him for a severe illness. After the auction record was made, some said they hoped that the market price of Chinese art would also rise.
Qi created three landscape collections, including this album, and completed the first, which was commissioned by a salt trader in Jiangxi province in 1900. The location of this collection is unknown. In 1932, he completed the third and last collection as a gift for Wang Zanxu, a military officer in Sichuan province who had been collecting his art for a long time. In return, Wang helped with Qi's travels in Sichuan for several months in 1936.
Compared with the record-setting collection, the paintings given to reward Wang's consistent sponsorship, titled Twelve Screens of Landscapes in Four Seasons, demonstrate Qi's further progress in brushwork during the 1930s. The paintings, each measuring 1.38 meters long, depict the changing scenery of the seasons. They are now in the collection of the China Three Georges Museum in Chongqing.