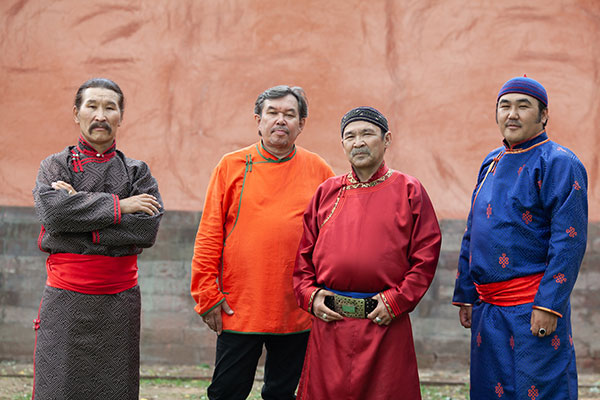 Huun-Huur-Tu [Photo provided to China Daily]
Nobel Prize-winning theoretical physicist Richard Feynman (1918-88) dreamed about visiting Tuva but never managed to get there. He once gave American ethnomusicologist Ted Levin recordings of Tuvan khoomei, a unique throat-singing technique where the performer produces two or more notes simultaneously. Overwhelmed by this mysterious sound, Levin then traveled to Tuva in 1987 where he met the four musicians who would go on to form the group Huun-Huur-Tu.
Formed in 1992, Huun-Huur-Tu, which means "sunshine" in Tuvinian, released their first album 60 Horses in My Herd in 1993, and made their debut in the United States later the same year, thanks largely to Levi's efforts. This helped the band gain global recognition and set them up to become ambassadors for the little-known region.
With more than 200 performances worldwide now annually, Huun-Huur-Tu made their debut tour in China in 2014 and have been frequent visitors to the country ever since.
The band will join in the upcoming Stallion World Music Festival which will be held jointly in Beijing and Shanghai this September. The band will also perform in Xi'an, Shaanxi province, Zhuhai, Guangdong province, and Hohhot, Inner Mongolia autonomous region in the same month.
"We are inspired by nature. Our music makes you strong and peaceful," Sayan Bapa, 56, one of the founding members of the band, tells China Daily via email. "The lyrics are poetic and like maps of Tuva, portray the sky, mountains and air. If you have never been to Tuva, you can imagine its landscapes just by listening to our songs."
Part of the Russian Federation, the autonomous republic of Tuva is located in southern Siberia on the border with Mongolia, and has a population of just 300,000. The region has a rich ancient history based around nomadic life and hunting.