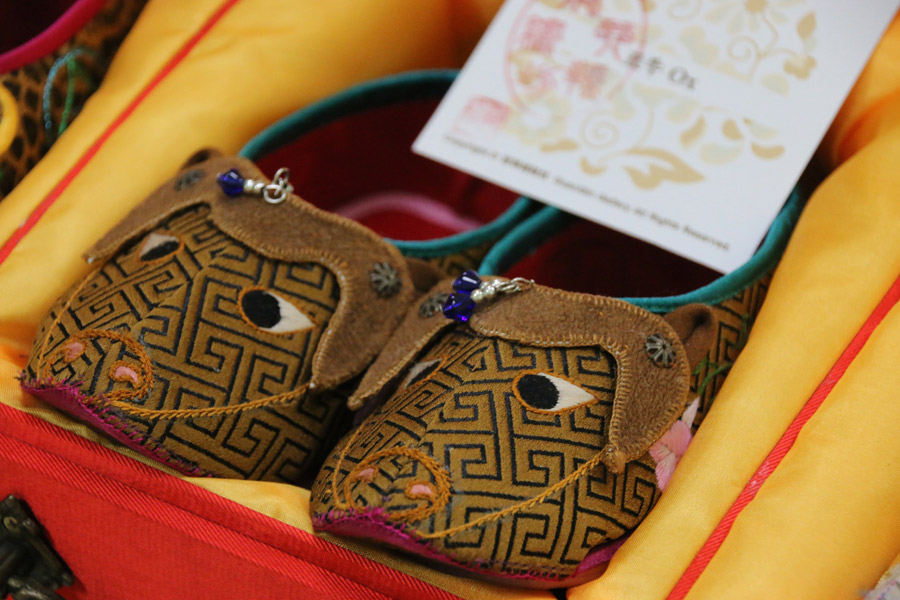 The Year of the Ox is represented in this pair of Chinese embroidered shoes by Wang Guanqin, July 21, 2018. [Photo by Wang Qiao/chinadaily.com.cn]
Her inspiration for different designs is often drawn from historical research based on Chinese literature and ancient traditional culture. One fine example is Wang's famous series of shoes featuring the animals of the Chinese zodiac.
She made a series of zodiac-themed shoes. For the ox, niu in Mandarin, the embroidery features morning glories, known as qianniu hua in Mandarin. She uses grass flowers for the horse and carrot flowers for the rabbit.
"Pigs made by machines often appear in an exaggerated way, but mine are happy pigs. No matter what angle, the pigs seem to be smiling," Wang said.
"Shoes are soulless without a cultural connotation" said Wang, who has done detailed research through continuous and thorough studies that manifest the culture of shoes in different dynasties of Chinese history.