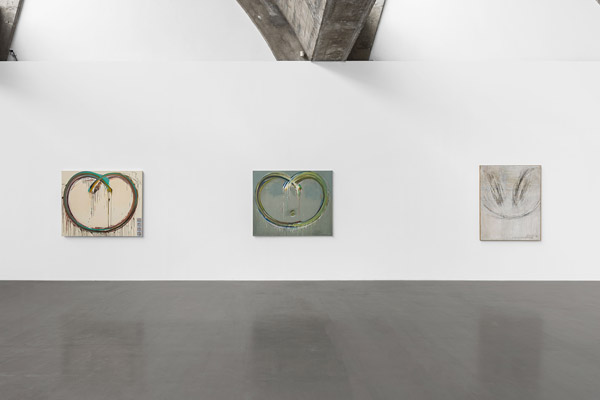 [Photo provided to China Daily]
Before his recent performance in Beijing, Lee asked people at the front to crouch down so that those at the back could see; and he joked that he would not pay the laundry fees if anyone's clothes got stained by his paints.
When he turned around to see what his flailing arms had created, he saw the shape of a colorful heart, he cried out in surprise. He squatted to ask a little girl sitting on the ground what she thought of the drawing, before finally turning to his wife, allowing her to decide whether the work was a success.
Lee's Body Drawing series of paintings form an important part of his exhibition at Pace, sharing the spotlight with a display of installations, as well as photos and videos of his performance work - including the iconic pieces that he drew from behind a paper board by reaching around it to leave marks on the front.
Lee says he is not painting with his brain but his body.
He thus produces paintings of unsophisticated beauty, while showing to his audience the physical limits and possibilities of the human body, and how that can influence the relationship between a person and their surroundings.
Lee's works often render meaning to everyday movements, while his thoughts and methods are derived from many years of studying philosophy, logic and history. His path to pioneering South Korea's avant-garde and performance art scene started when he was in high school and would search for things to read in his father's study.
Lee says, because his father spent a lot of money on books, his family sometimes had to go without meat, clothes or jewelry; but he remembers the books at home stacked up from the ground to the ceiling.
"When my mother got angry with father, she just picked a costly book and threw it out of the house," he recalls. "When we moved after my father died, the books filled five freight cars."
Among his father's collection, Lee was most interested in philosophical texts, such as books introducing the musings of ancient Chinese thinkers, Laozi and Zhuangzi - leading him further toward his artistic philosophy.
"I was often viewed at home and school as a 'trouble maker'," Lee recalls. "But the trouble I made was (my work). I wanted to find the answer to the question, 'What is art?'"
In an essay titled Artist's Note, Lee writes: "Art rises as steam on the surface of water, makes a rainbow in the sun, disappears in the wind. It passes through the subway tunnel to stay among people waiting on the platform, and sparkles between their fingers, holding a tea cup, to disappear."
Lee says these days there have been various discussions about art, and no matter what, he believes that art is ultimately a way for people to communicate with themselves, each other and the world.
If you go
10 am-6 pm, Tuesday to Sunday, through Sept 1. 798 art district, 2 Jiuxianqiao Road, Beijing. 010-5978-9781