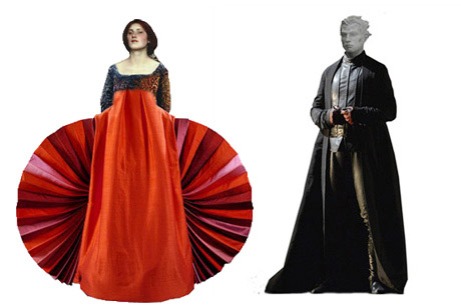 [Photo/chncpa.org]
Romeo and Juliet opera celebrates Gounod anniversary

The National Center for the Performing Arts is bringing a new theater piece to the stage from July 18 to 22 - an opera adaptation of Romeo and Juliet in celebration of the 200th anniversary of the birth of French romantic composer Charles-François Gounod.
The five-act opera Roméo et Juliette is one of Gounod's masterpieces. The libretto was adapted by Jules Barbier and Michele Carra in 1867 from Shakespeare's classical play Romeo and Juliet, and debuted in Paris that April. It has become one of Gounod's most famous works.
Learn more here.
If you go:
7 pm, July 18-22. Opera House, National Center for the Performing Arts, 2 West Chang'an Avenue, Xicheng district. 010 -6655-0000.
Tickets: 100 -880 yuan
Strolling in the universe
Over the past few years, Beijing-based artist Zhao Xu has moved from a figurative approach to a semi-abstract style, inspired by his deepening interest in the cosmos and the stars. His mixed-media paintings, often stretching more than 1 meter in length and height, overwhelm the audience by depicting myths, illusions and grandeur.
His works are on show at a solo exhibition called Wandering in Space at the National Art Museum of China. Some of the paintings are projected onto the walls and the ground, creating a space for meditation by visitors, and allowing them to feel the energy of the universe.
Get a sneak peek here.
If you go:
9 am - 5 pm, through July 22. Hall 6, National Art Museum of China, 1 Wusi Avenue, Dongcheng district. 010-6400-1476.
Tickets: Free