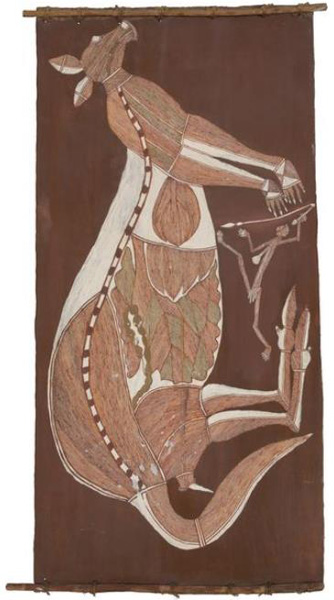 A bark painting on display at the National Museum of China. [Photo/chnmuseum.cn]
Using bark as canvas and ochre as pigment, indigenous Australians have formed their unique bark painting style over the centuries. The artwork usually centers around local people's prehistoric religions, recording history and legends of the tribes.
From plants and animals to human portraits and abstract sketches of the ocean and local landscapes, the tree paintings cover a wide range of objects.
The exhibition Old Masters: Australia's Great Bark Artists, which is underway at the National Museum of China, offers a peek into this unique painting style. On show are 122 bark paintings created by 46 artists in Australia's Arnhem Land, one of the birthplaces of Australian indigenous culture. The artworks were created from 1948 to 1985.
If you go:
9 am - 5 pm, through Sept 2 (Closed on Mondays). Galleries N11, National Museum of China, 16 East Chang'an Avenue, Dongcheng district. 010-6511-6188.
Tickets: 50 yuan (30 yuan for students)