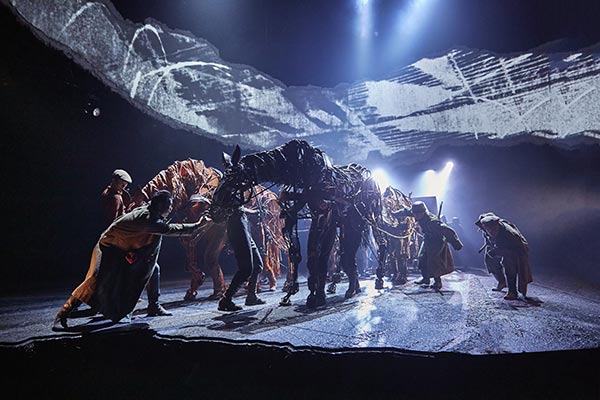 The National Theater of Britain's widely successful production, War Horse, will return to Beijing from August 8 to September 9, and tour other Chinese cities. [Photo provided to China Daily]
One of the biggest challenges for the actors was performing the lead role, that of manipulating the 2.4-meter-tall horse, Joey, which was no small feat considering it weighs 54 kilograms. It took 14 people eight months to make, and cost about 3.6 million yuan (US$544,229).
Co-directors Wang, and Liu Dan, along with puppetry director Liu Xiaoyi and a team of technicians, traveled to London in January 2014 for training on how to stage the play. Puppet master Tommy Luther, who helped with casting the horse operators, arrived in Beijing several months before the show's premiere to prepare the team.
"For about a year, we received strict training from the UK War Horse team," recalls Liu Xiaoyi, who is also a puppet actor in the show. "We practiced physically because the puppet is very heavy. We also studied with zoologists to learn and understand how horses move, breath and think."
He adds that, during the past four years, new actors have joined the production and have received training from senior actors.
"For the three actors who manipulate Joey, they have to think, move and breath like one horse," he explains.
11-year-old Tong Xinran is a big fan of the production. She watched War Horse performed by actors of the National Theater of China on a TV program in 2016 and became interested in the horse, Joey.
Her mother bought her the book and she has also watched Spielberg's film adaptation.
"I read the book three times and I think Joey is very cool," says Tong. "When I finally saw Joey in the theater, he is cooler than I thought. He is just like a real horse."
If you go
7:30pm, Aug 8 and Sept 9. National Theater of China, 277 Guang'anmenwai Street, Xicheng district, Beijing. 4006-101-101.