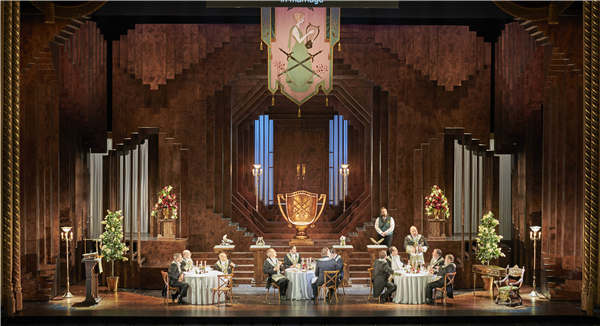 Royal Opera House's production of Richard Wagner's Die Meistersinger von Nurnberg by director Kasper Holten in 2017. [Photo provided to China Daily]
Richard Wagner's comic opera, Die Meistersinger von Nurnberg (The Mastersingers of Nuremberg), will come to life with a joint production by the National Center for the Performing Arts, Royal Opera House and Opera Australia.
Directed by Kasper Holten, the director of opera at the Royal Opera House Covent Garden from 2011 to 2017, the upcoming production will feature an international cast, including Danish bass-baritone Johan Reuter, soprano Amanda Majeski and baritone Jochen Kupfer.
The China NCPA Orchestra and China NCPA Chorus will perform in the opera under the baton of conductor Lyu Jia, the artistic director of opera at NCPA.
The opera, composed between 1845 and 1867, premiered at the National Theatre Munich in 1868.
In the opera, master singers are holding a singing competition that Walther von Stolzing, a knight, needs to win. But he's an outsider and he doesn't know the rules.
However, to win the hand of his beloved Eva, he must sing and win the competition.
One protagonist in the opera, Hans Sachs, was one of the most famous master singers in German history.
Through the opera, Wagner uses the role to express his ideal of reforming art and delivering praise for German culture and art.
According to Zhao Tiechun, the vice-president of the NCPA, the opera, Die Meistersinger von Nurnberg, is the 62th opera produced by the Beijing institution.
So far the NCPA has done four Wagner operas - Der Fliegende Hollander (The Flying Dutchman), Lohengrin, Tannhauser and Tristan und Isolde (Tristan and Isolde).
Die Meistersinger von Nurnberg is the second coproduction by the NCPA and the Royal Opera House, Convent Garden, following Italian composer Umberto Giordano's opera Andrea Chenier in 2015.
Speaking about the upcoming production, conductor Lyu says: "The music of Die Meistersinger von Nurnberg has great dramatic diversity and the opera has a huge cast. Also, the over five-hour opera is quite a challenge for the audience, but we are looking forward to balance tradition and innovation."
Lyu also says that Wagner's operas challenge the singers' physical strength and singing skills due to very lengthy durations of the melodies.
Reuter, who will play Hans Sachs, has performed the role many times at the Metropolitan Opera, Royal Opera House and Deutsche Oper Berlin.
Majeski, an American soprano, will play Eva Pogner, a lead female role.
In 2016, she took the stage during Glyndebourne Opera Festival, an annual opera festival held at Glyndebourne, UK, playing the same role.
Speaking about her upcoming role, Majeski says: "Eva is the price and she was given up by her father. She doesn't have a choice about her life.
"But with this new production, I look upon the role with a fresh eye.
"Eva does take control of her own fate and in the end, we have a little twist in this production."
If you go
5 pm, May 31, and June 2, 5 and 7. No 2 West Chang'an Avenue, Xicheng district, Beijing. 010-6655-0000