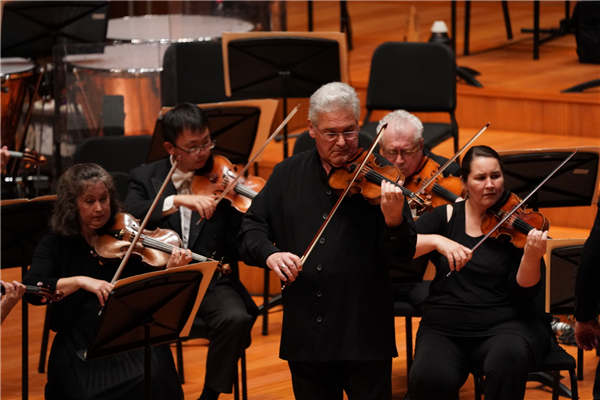 Israeli-American violinist Pinchas Zukerman plays at the NCPA in Beijing. [Photo By Wang Xiaojing / For China Daily]
The Pacific Symphony recently concluded its first China tour with a grand gesture. It performed My Motherland, one of the most famous Chinese songs, at the National Center for the Performing Arts in Beijing on Tuesday, as it signed off.
The tour, which ran from May 9, covered five Chinese cities - Shanghai, Hefei in Anhui province, Wuxi in Jiangsu province, Chongqing and Beijing.
The 39-year-old Pacific Symphony, one of the largest orchestra in the United States, is based in Orange County, California.
Orange County has the third largest Asian American population in the US. And the Chinese community there in particular has seen explosive growth.
Speaking about how the symphony has tried to boost its links with the Chinese in Orange County, Pacific Symphony's president John Forsyte says: "Since 2013 we have been devoted to engaging with the Chinese communities of the region (county area), and building on their enthusiasm for symphonic music. We are proud of the role we are playing as cultural ambassadors for Orange County and the community.
"Crossing the Pacific Rim to perform for the Chinese on the mainland is the logical extension of the work we've been doing in Orange County."
The Pacific Symphony toured Europe in 2006 and made its Carnegie Hall debut on April 21, 2018. Earlier, in 2017, the orchestra relocated its headquarters to the city of Irvine, a city of Orange County.
Forsyte says that the orchestra is supported by board members, including Chinese-American members. And three years ago, the orchestra launched a lantern festival event to celebrate the Chinese New Year, introducing traditional Chinese musical instruments, dance and art activities.
Speaking about increasing Chinese involvement with the symphony, Forsyte says: "There are about half a dozen musicians in the orchestra from China, and you can often hear Mandarin backstage.
"By coming to China, our musicians have a better understanding about Chinese culture, which is also important for our audience at home."
Chinese-American violinist Shelly Shi joined in Pacific Symphony in 2009.
Shi, who was born in Beijing, studied at the high school affiliated to the Central Conservatory of Music in Beijing from the age of 9.
She was awarded a scholarship to go to the US to study violin in Santa Monica after she turned 16.