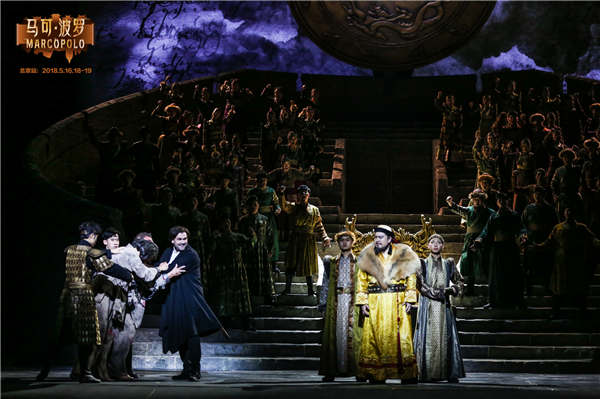 China's original opera production, Marco Polo, which is composed and sung in Chinese language by both Western and Chinese singers, is being staged in Beijing through Saturday. [Photo provided to China Daily]
Composed and written in Chinese and performed by both Western and Chinese singers, the opera Marco Polo is set to please music lovers. Chen Nan reports.
When Danish tenor Peter Lodahl sang at the grand theater of the Tianqiao Performing Arts Center in Beijing recently, what resounded off the walls of the hall was unlike any of his performances in the past 75 international opera productions of his career.
Hitting the high notes still proved to be a challenge, yet the 44-year-old tenor successfully managed to pull off his first performance singing in Chinese for the opera production, Marco Polo.
It is the first original Chinese opera produced by the Guangzhou Opera House for the Silk Road International League of Theaters, which was initiated by the China Arts and Entertainment Group in 2016. Representing 86 theaters from 32 countries and regions around the world, the league serves as a platform for the performing arts and was set up to promote cultural exchanges between China and other countries.
Marco Polo, which was composed and written in Chinese to be performed by both Western and Chinese singers, is based on the story of the Venetian explorer who traveled along the ancient Silk Road.
The story revolves around three Italian adventurers Marco, Niccolo and Maffeo Polo, who traveled along the Silk Road in the 13th century. The opera also charts the romance between Marco Polo and a young Chinese woman named Chuan Yun and the rise and fall of the Song and Yuan dynasties (960-1368).
After making its world premiere at the Guangzhou Opera House over May 4-6, the opera is now being staged in Beijing, running from Wednesday to Saturday.
Danish director Kasper Holten, former director of opera at the Royal Opera House in London from 2011 to 2017 and the current vice-president of the European Academy of Music Theatre, is directing the opera.
He invited Lodahl to sing in Marco Polo as the lead role but Lodahl initially turned it down.
"I speak six languages and have sung in 10 languages, but I have never sung in Chinese," says Lodahl, who studied at the Royal Academy of Music in Aarhus and at the Copenhagen Opera Academy, both in Denmark. He has worked with Holten on five opera productions to date. "Then I had second thoughts and decided to give it a try. Now, although I can't use Chinese in everyday conversation, I can sing in Chinese. And I'm looking forward to singing in more Chinese operas."