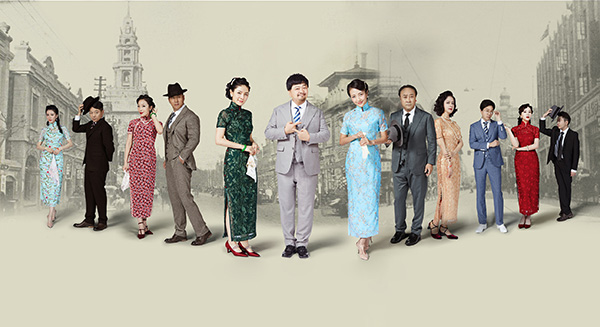 Cast of  Lurk. [Photo provided to China Daily]
In 2009, a TV show, titled Qian Fu, or Lurk, which is set in 1945 -- the year China won the War of Resistance against Japanese Aggression and saw the start of a 4-year civil war-- became a smash hit.
The 30-episode series, which is adapted from Chinese writer Long Yi's novel with the same title and starring actor Sun Honglei and actress Yao Chen, soon became the talk of the town and is considered a landmark Chinese spy thriller series.
Now, a theater work, also titled Lurk, which is based on the same novel, is being staged in Beijing from May 16 to 19. And it will tour Wuhan, Chongqing, Ningbo and Shanghai till the end of the August.
Speaking about the theater production, the writer Long Yi says: "I compare my novel to a seed and the TV show grew the seed into a tree. Now the drama will give the seed another new life."
Meanwhile, unlike the TV show, which has a tense atmosphere, the drama offers the audience light moments.
Speaking about the challenges he faced turning the TV series into a drama, the the director Jiang Tao, who is the head of the directing department of Central Academy of Drama in Beijing, says: "We decided to turn the story into a comedy because we wanted to give the audience something fresh.
"When the TV show was screened, audience not only enjoyed the exciting story told in it, but also learned something from it. We want a similar result with this drama -- to inspire and to entertain because life is a battlefield.
"People already know about the history and they tend to relate the story to an environment they are familiar with," says Jiang.
Chinese actor Hong Jiantao plays Yu Zecheng, the protagonist, who survives as a spy thanks to his strong faith, wisdom and courage. Actress Hu Ke plays Wang Cuiping, Yu's fake wife.
If you go:
7:30pm, May 16 to 19. Poly Theater, 14 Dongzhimen Nandajie Dongcheng district, Beijing. 010-6506 5343/45