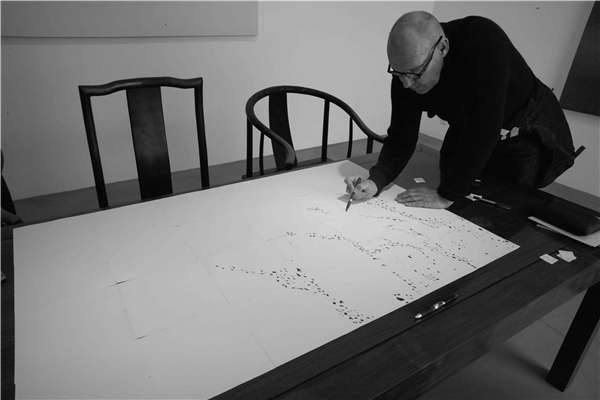 Artist Michel Comte works on his monochrome painting Salt and Dust in Beijing. [Photo provided to China Daily]
"Contemporary art is a good way of communication," he explains. "I'm not an activist. I just offer visual art to remind people of what is happening."
The highlight of his Beijing show is Erosion, a large wall-mounted installation consisting of 500 porcelain tiles produced in Jingdezhen in Jiangxi province, a city widely regarded to be the Chinese "capital of porcelain." The tiles are arranged by Comte to form a 30-meter long strip, with the colors gradually changing from different shades of white to gray to black. The mixture of sand, salt and pigments in porcelain production generates a texture similar to glaciers.
He says climate change caused by carbon output is a global issue.
"Since there are not enough glaciers melting into the sea, oceans are getting saltier and corals are dying," explains Comte, while musing on the consequences of the glacial plight.
He hopes his work can inspire people to shift their eyes from phones to nature, to experience firsthand how the environment is changing.
"China is making a gradual change to protect its environment. I see lots of people planting trees in many areas," Comte observes. "For generations, they have planted trees to make a desert into a forest."
Although the decline of the glaciers vexes Comte, he remains positive about the future. His other installation, comprising pieces of rice paper carrying the imprints of individual porcelain tiles, shows a wall of white, which Comte envisions is the snow and glaciers returning to a healthy state.
"If we take action from now, there will be positive changes," he concludes.
If you go
11 am-6:30 pm, May 18-Aug 10, 798 East Street, 2 Jiuxianqiao Road, Chaoyang district, Beijing, 010-64333393