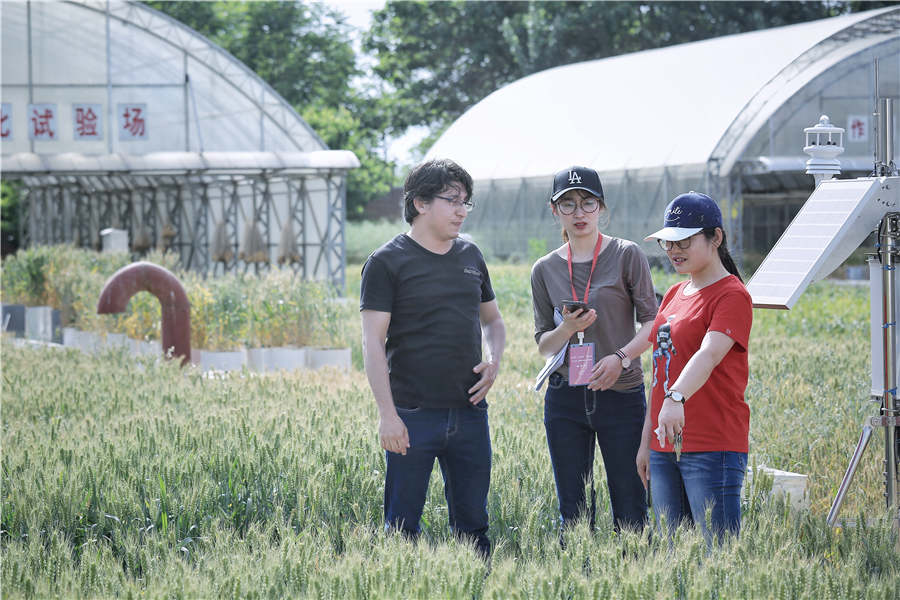 PhD student from Pakistan (right) introduces the new irrigation system to reporters at the experimental field of Northwest Agriculture & Forestry University in Yangling, Northwest China's Shaanxi province, May 13, 2018. [Photo provided to chinadaily.com.cn]
Cultivate talents among BRI countries
Educational institutions in Shaanxi continue to build communication platform for BRI countries. Taking Northwest Agriculture & Forestry University (NAFU) as an example, it initiated the "Silk Road Innovation Alliance for Agricultural Education and science" in 2016 and has collaborated with 59 universities and institutions from 12 nations.
By now, NAFU has trained 120 agricultural scientists and technicians from Central Asia, 900 from Africa, 500 from other regions. The university also sends specialists to countries, including Kazakhstan, Kyrgyzstan, Egypt and South Africa, offering technical assistance.
Muhammad Saeed from Pakistan is about to get his doctorate in animal science at NAFU. He has published 9 papers on SCI journals and decided to pursue post-doctoral in the same field. "China has a leading edge on animal science. I can learn a lot here," Saeed said in fluent Chinese. "Through this scholarship program, all my tuition fees are covered. After graduation, I want to have an academic career right here in China."
In the future, Shaanxi aims at building a strong cultural industrial chain which fully integrates culture with tourism, education, business and social enterprises. "If we can build up the scale of local culture and tourism industries, they are going to serve as magnet attracting more people and resources to boost the economy of Shaanxi," Liu Dongmeng, vice-president of Xi'an Aiju Grain and Oil Industry Group, said.