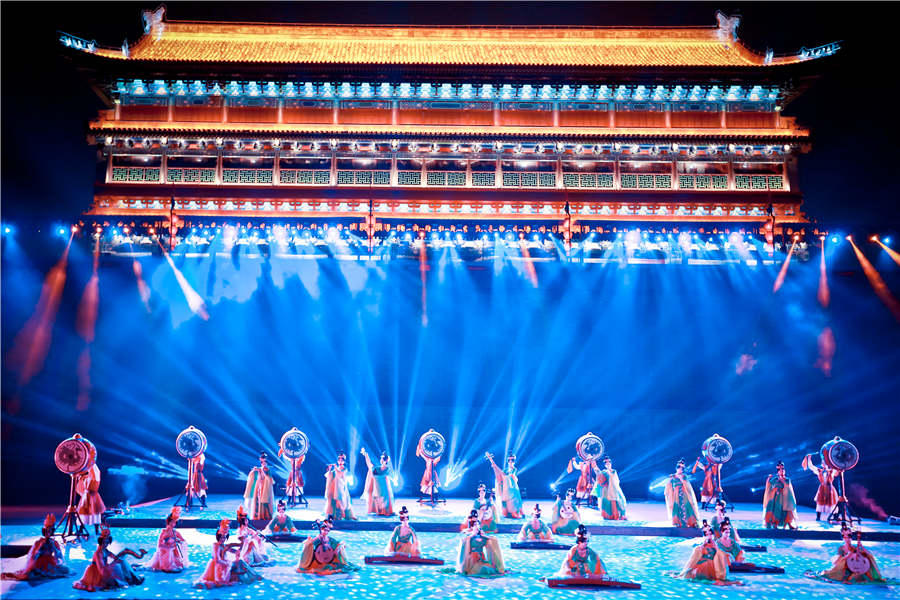 The ritual performance Chang'an Impression -- Tang Dynasty Grand Welcoming Ceremony takes place within the city wall of Xi'an, Northwest China's Shaanxi province, May 11, 2018. [Photo provided to chinadaily.com.cn]
As the starting point of the ancient Silk Road and an active participant in the Belt and Road Initiative, Shaanxi province has launched a series of projects boosting local culture and tourism industry.
The province, widely known for its abundant historical heritages such as the world-famous Terracotta Warriors, plans to further promote its culture to both domestic and international visitors instead of resting on its laurels.
Minds and efforts are put into the urban design maximizing multiple cultural functions of Shaanxi's capital city Xi'an. Eye-catching cultural creative products and artistic events bring people closer to local history, a significant manifesto of traditional Chinese culture.
According to the 2017 Statistical Bulletin of Shaanxi Economical and Social Development released by Shaanxi Provincial Bureau of Statistics in March, the region's domestic and foreign tourist visit rose to 5.23 billion last year, up by 16.4 percent compared with 2016. Inbound tourist visit increased by 13.5 percent to 3.84 million in 2017, contributing a total of 17.12 billion yuan ($2.7 billion).