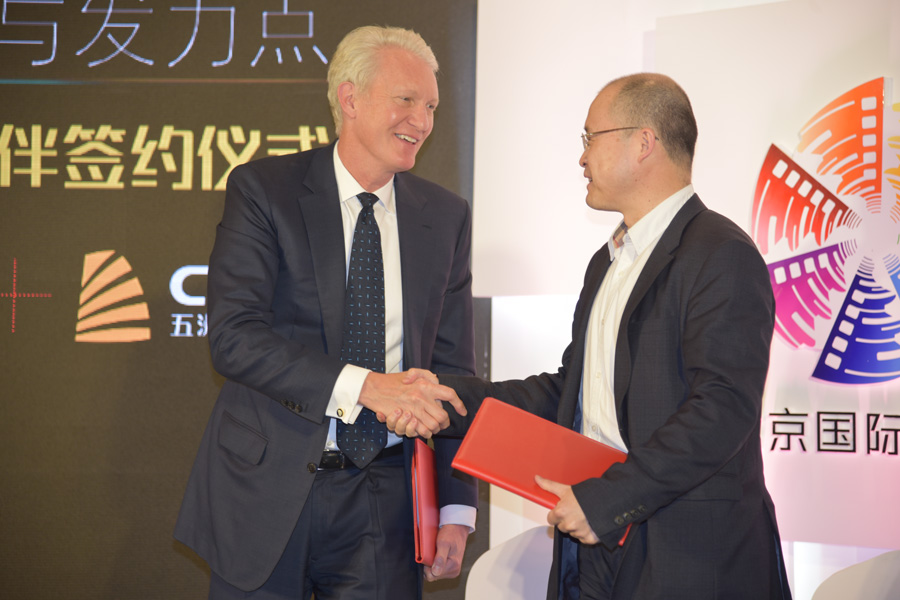 Chris McGurk sign the cooperation agreement with representative of the Intercontinental Communication Center on April 19, 2018 in Beijing. [Photo by Zhang Xingjian/chinadaily.com.cn]
Right partners key to Chinese film companies going out
Unlike Crouching Tiger, Hidden Dragon and Hero, most Chinese movies are still distributed globally by smaller, niche companies that lack the necessary expertise and resources, and operate with financial and business incentives that are not aligned with their Chinese partners.
These niche distributors usually release films cheaply in a fast and easy way, with consistently disappointing results. Also, major U.S. studios are also not always well-suited for delivering results for Chinese films. Some are almost always overwhelmingly focused on recovering the huge investments they have made in their own films, and tend to not give any internationally-produced films the proper care, executive talent and due attention they need to succeed.
In response to this, McGurk offered the solution: OTT streaming, which can immediately begin digitally delivering Chinese films, TV series and other content directly to audiences abroad.
"The ability to deliver films and other programming directly to audiences whenever they want to view them at whatever time they choose on whatever device they prefer through digital streaming is a catalyst that is revolutionizing entertainment and is the ideal way to begin to change global perceptions of Chinese entertainment and culture now," said McGurk.