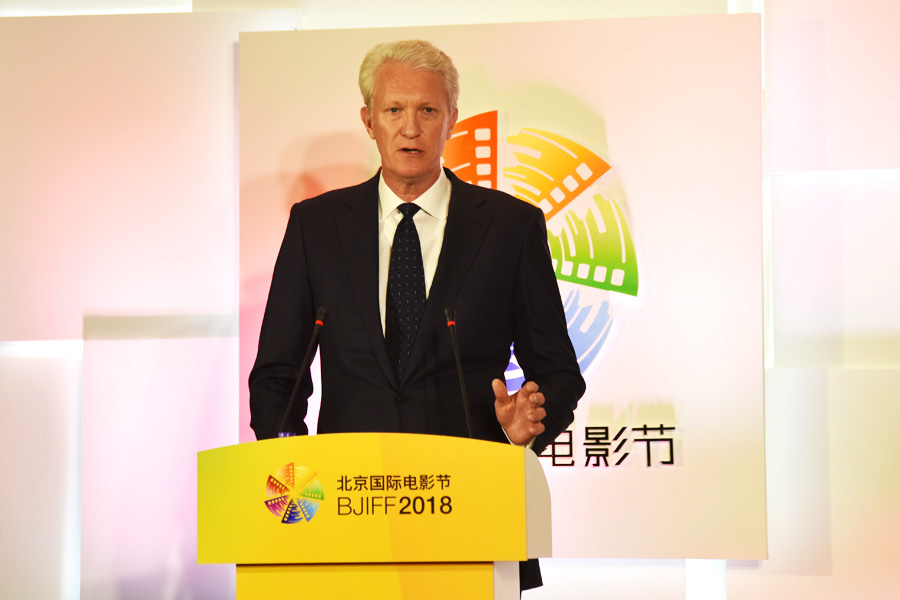 Chris McGurk, Chairman and CEO of Cinedigm, delivered the keynote speech during the event. [Photo by Zhang Xingjian/chinadaily.com.cn]
Chinese best-performing movie model can be duplicated
As Chinese filmmakers have long struggled to promote domestic hits to an international audience, the country's best-performing movies have been two martial arts films, Crouching Tiger, Hidden Dragon directed by Ang Lee and Zhang Yimou's Hero.
As a veteran who has worked in the US movie and television industries for more than 30 years, McGurk believes that the huge success of the two movies was not accidental and can be duplicated.
"Both of these films told the sort of stories that Western audiences can relate to, with a clear progression from beginning to middle to end. They were linear in form and non-chaotic in presentation, which Western audiences are comfortable with," McGurk said.
The two films' directors well understand Western storytelling sensibilities. Ang Lee and Zhang Yimou studied the film elements, including visuals, pacing and character development, with Western audiences and selected top-notch stars known to US audiences, such as Chow Yun-fat and Michelle Yeoh for Crouching Tiger, Hidden Dragon, and Jet Li for Hero.
Yu Jianhong, President of Youth Film Studio, agreed with McGurk, adding that "One of the key factors in film marketing is to produce a good story that resonates with the domestic and international audience. There are some misunderstandings in the process of film creation. Some think that the story line should be more complicated and audiences should find one clue after another in watching the movie. And that's not true."
"Picking the right partner is one of the key factors for their success," adds McGurk, who held that the careful marketing and wide promotion Sony Classics did for Crouching Tiger, Hidden Dragon and that Miramax Films did for Hero effectively convinced Americans to think the two were must-see movies.