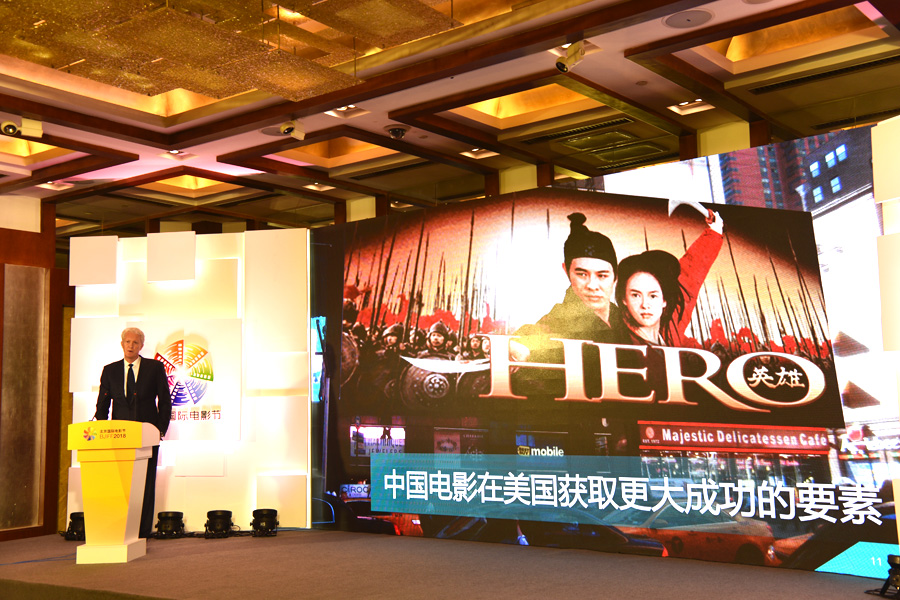 McGurk believes that the huge success of the two movies Crouching Tiger, Hidden Dragon and Hero was not accidental and can be duplicated. [Photo by Zhang Xingjian/chinadaily.com.cn]
Golden ten years to take Chinese films to the world
China' film industry has witnessed huge growth in the past several years. In 2012, the Chinese comedy film, Lost in Thailand, grossed more than 1.27 billion yuan ($191 million) at the Chinese box-office, representing the first movie in China to earn over a billion yuan.
Last year, the film phenomenon Wolf Warrior 2 achieved huge success both at the box office and in public appraisal, breaking numerous box office records both at home and aboard and scoring 5.68 billion yuan.
From Lost in Thailand to Wolf Warrior 2, the domestic film industry growth has not really translated yet into a similarly burgeoning business in the theatrical or home entertainment markets outside of China.
On the other hand, Hollywood hits like The Avengers, Transformers or Star Wars consistently earn more than twice their domestic box office and home entertainment revenues outside of the United States.
With regard to these kinds of issue, McGurk said that the conditions the Chinese film industry now faces are very similar to those challenging American films when he was first engaged in the industry. The journey for Hollywood filmmakers to go out of United States was not that smooth and underwent many setbacks and difficulties. But time will prove that Chinese will gain the glory of an overseas box office boom by 2020, just as American films did in the 1980s and 1990s.
"Therefore, I believe we are at the doorstep of an even greater new global age for Chinese cinema," said McGurk.
Bai Yicong, CEO of Shanghai Linghe Media Company, echoed McGurk's opinion and said that Chinese filmmakers should consider more options in selecting film materials.
"At present, many Chinese filmmakers seem to appeal to a majority Chinese taste and produce many similar films. They may make a lot of money in the short run, but, actually, this behavior is totally harmful to the entire industry in the long term. In the process of going global, more movies of different genres should be provided to viewers," Bai added.