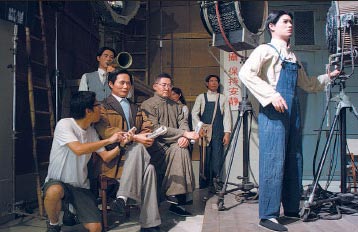 Wax figures are used to reenact the filming of the popular movie  Crows and Sparrows which was manufactured in Shanghai and premiered in 1949. [Photo by Gao Erqiang/China Daily]
Visitors to the Shanghai Center, the tallest building in China, are now able to learn about the city's achievements in filmmaking at an exhibition presented by the Shanghai Film Museum that is ongoing till March 18.
The city is considered the epicenter of China's filmmaking industry. Shanghai was where China's first feature film was created and it is also the home of the nation's first cinema.
The exhibition at the 119th floor of the Shanghai Center showcases 30 artifacts, including a Newall 35 mm studio camera, one of the most important items in the museum's collection. Manufactured in the United Kingdom in the 1930s, the camera was used in the filming of important Chinese movies such as Three Modern Women, Goddess and Wild Flowers by the Road.
The camera was also used in the famous 1935 movie Children of Troubled Times that had a theme song, March of the Volunteers, which was later adopted as China's national anthem. According to Ren Zhonglun, president of the Shanghai Film Group, China is the only country in the world to have its national anthem come from a film.
Since its opening in 2013, the Shanghai Film Museum has been a popular venue for film lovers and tourists from all over the world, attracting more than 200,000 visitors every year, according to the museum director Fan Yirong.