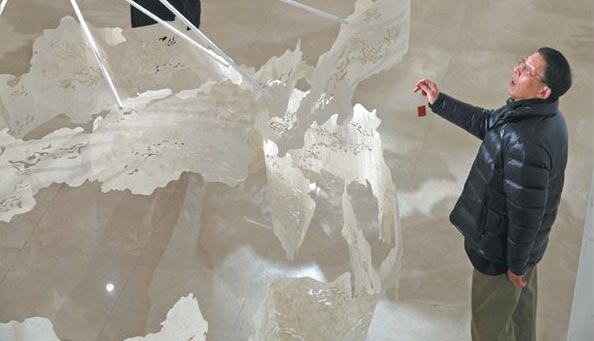 The installation The House of Clouds consists of hundreds of pieces of Dai paper suspended from wires on seven rotating brackets. [Photo by Gao Erqiang/China Daily]
The installation The House of Clouds had such a romantic and dreamy atmosphere that a man successfully proposed to his girlfriend in it. It consists of hundreds of pieces of Dai (ethnic group) paper suspended from wires on seven rotating brackets.
When a viewer steps into the room, he enters a dreamy atmosphere surrounded by forest and tranquil music.
You can pull the wire and rotate each bracket, and find the patterns laser-cut on each paper reflected on the wall, their shadows dancing around you.
The artwork by American Chinese artist Juju Wang is on display at Duoyunxuan Art Museum, as part of an exhibition featuring traditional Chinese handicrafts recognized as the intangible cultural heritage of China.
The Duoyunxuan Art Museum launched the annual exhibition featuring traditional handicrafts and intangible cultural heritage in 2016, and ongoing event, which runs through March, is the second installment.
Speaking about the show, Wang Yuqing, the curator, says: "This time we wanted to find the connection between cultural heritage and modern life. We wanted to bring the beauty of traditional handicrafts to people, and hopefully inspire new thoughts on cultural inheritance, creativity and vision."
Juju Wang was invited to take part because of the material she worked with.
She was introduced to Dai paper by Xihan Action, an NPO dedicated to the protection of traditional Chinese handicrafts.
Speaking about her work, the artist says: "I went to Xishuangbanna, and the Manzhao village several times. There, people have been making Dai paper for 800 years in the village of no more than 196 households.
"It was very pure, the people were very nice, and the food was really good. It was like returning to the nature, like back in California. The place is so amazing that I return there every year."
"People used to write Dai scriptures on this kind of paper, but now the paper is only used to wrap Puer tea," she says.
The American Chinese, who graduated from UC Berkeley majoring in civil engineering, returned to Shanghai in 2009, at the prompting of her parents.
Then, she turned from engineering and design work to artistic creation because "I've seen a lot of traditional Chinese handicrafts ... It was kind of a calling to me. They (the handicrafts) are so beautiful," she says.
In ancient times, the Dai people living in the lower parts grew rice for a living, and those who lived higher up used to grow tea, but Manzhao village was "stuck in the middle", and couldn't grow anything well, "so they decided to make paper."