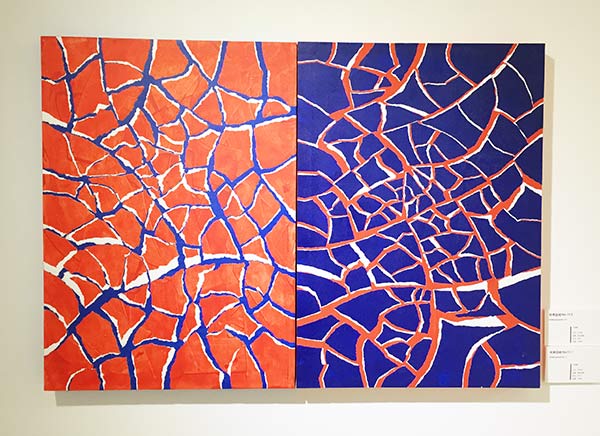 Available Space series, by Wang Chengpu. [Photo by Bi Nan/chinadaily.com.cn]
An art exhibition titled "Torrents of Spring" opened at the TAN Gallery in 798 Art District of Beijing on Saturday, showcasing mix media and installation works by artists Wang Chengpu and Wang Xiaorong.
Wang Chengpu uses threads that have been soaked in pigments to create, leaving traces of colors on the canvas. However, his creation is not randomly arranged but forms rigorous color composition. The method also applies to his installations, which start from a thread and then form a solid obeying the principle of symmetry.
Sometimes, Wang will scan and print out his thread paintings, and then tear them into pieces randomly, and later paste them on the canvas like a jigsaw. "Different people will have different interpretations when viewing my artworks," Wang Chengpu said, adding he believes his pieces reflect more geometry and rationality.
Wang Xiaorong also uses the medium of paper in creation, as she cuts or burns rice paper to produce different visual effects. "Paper is a kind of material which links natural quality and humanistic connotation, and it is soft and delicate," Wang Xiaorong said. "The traces of burning are left in my works, which marks the proof of life." Besides, she also uses Chinese ink in her creation, which presents a lyrical and poetic feeling.
"The abstract expressions of the two artists are comparable to the music with its changing tonalities and rhythms," the curator Susan W. Radovic said.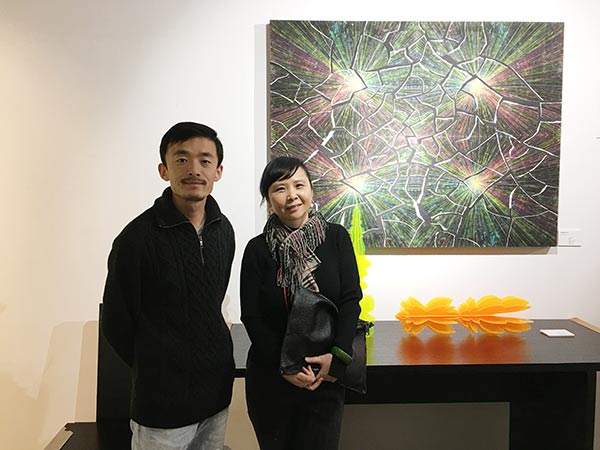 Artist Wang Chengpu (L) and curator Susan W. Radovic. [Photo provided to chinadaily.com.cn]
If you go:
Jan 27-March 11, F1 751 Fashion Echo, 751D Park No. 04, Jiuxian Bridge Road, Chaoyang district, Beijing