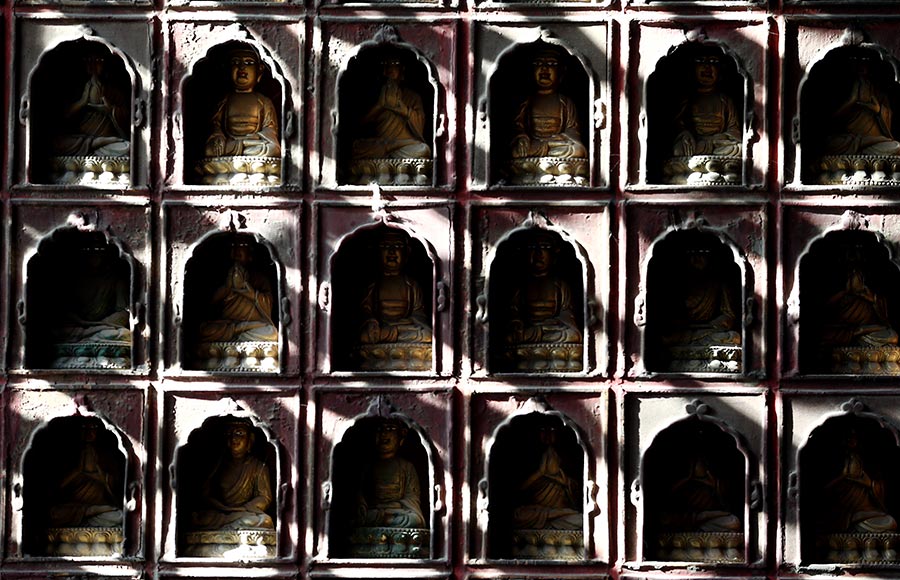 The renovated Zhihua Temple is open to the public. [Photo by Zou Hong/China Daily]
At the Zhihua Temple, there are three remaining halls that used to contain caissons, a sunken paneled ceiling similar to coffered ceilings seen in Western architecture.
However, it is unfortunate that two of them, which were decorated with dragon images, were taken by antique dealers in the 1930s and ended up in collections in the United States, according to Yang.
One of the caissons currently sits in the Philadelphia Museum of Art, while the other is housed at the Nelson-Atkins Museum of Art in Kansas City.
Only the caisson painted with a mandala, which sits above the Vairocana Buddha statue, remains in situ at the temple.
"Zhihua Temple has found the right direction for the display of Buddhist art," says Cui Xue'an, secretary-general of the Beijing Museums' Society.
"It also sets an example for other museums in Beijing located in ancient architectural sites. It's crucial to fully research the history of the buildings themselves before designing an exhibition."
Yang says he hopes to hold "museum nights" at the temple in the future to extend the opening hours to 8 pm, which is rarely seen at museums in Beijing.