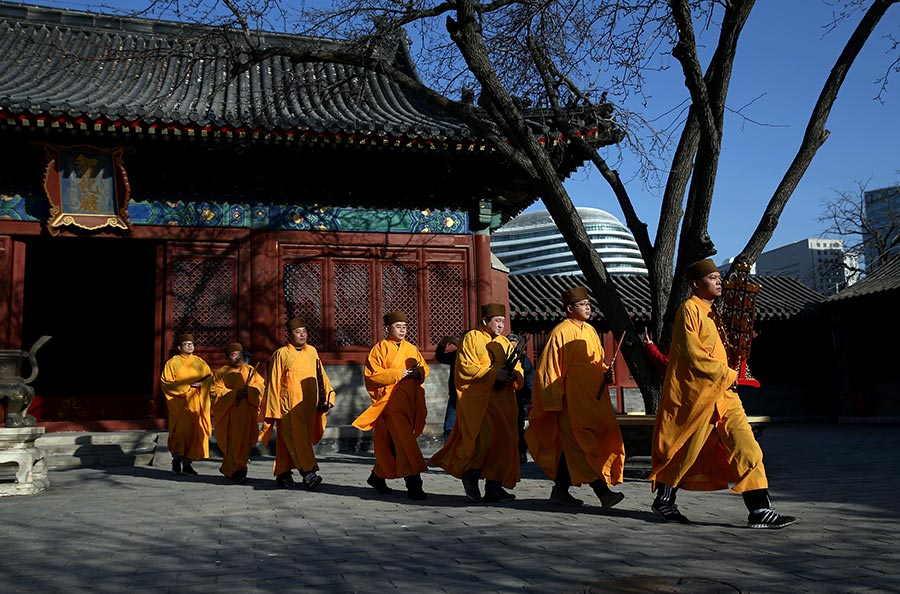 The renovated Zhihua Temple is open to the public. Its highlights include performances of Buddhist music and the display of statues. [Photo by Zou Hong/China Daily]
Next to the busy markets and office buildings of Beijing's Chaoyangmen district, there is a place of tranquility, with a history dating back more than half a millennium, which can almost be overlooked amid the hectic pace of life in the city's downtown.
Zhihua Temple reopened on Jan 19 following a six-month hiatus that saw one of the capital's key cultural landmarks revitalized in a bid to better display the ancient building and its treasures.
"The biggest highlight of the temple is now the ancient architecture itself," says Yang Zhiguo, deputy director of the administration office for the Zhihua Temple.
According to Yang, the temple is one of the best preserved Ming Dynasty (1368-1644) architectural complexes in Beijing.
Zhihua Temple, which has also been known as the Beijing Museum for Cultural Heritage Exchanges since 1992, was mainly used as a place to offer general information about the development of museums in Beijing, but seemed to neglect its own cultural treasures: Many parts of the temple were closed to the public while accessible areas remained dark and dingy.