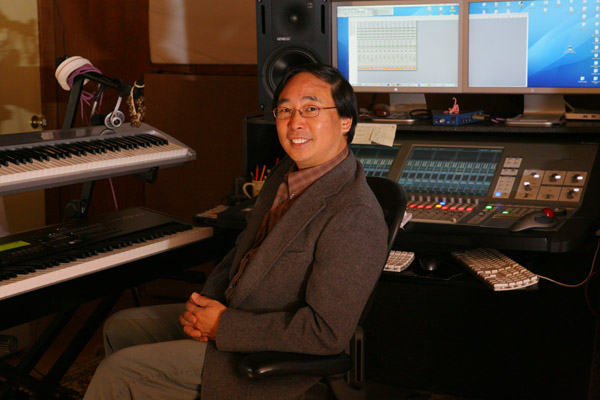 Nathan Wang, one of the most successful composers in Hollywood and Asian cinema, has written music for Jackie Chan movies and Steven Spielberg documentaries. [Photo provided to China Daily]
Sitting down at the piano, turning Charlie Chaplin's movies on, and turning off the lights, he started accompanying the silent movie classics, while improvising and experimenting with themes. That's what Nathan Wang used to love doing as a youngster. 
From a very young age, he practiced the art of scoring pictures and decades later, the classically-trained pianist-turned-composer, who was born and lives in Los Angeles, in the United States, does the same thing every day.
He is one of the most successful composers in Hollywood and Asian cinema, who has written music for Jackie Chan movies, Steven Spielberg documentaries and live-action and animated movies for Disney and DreamWorks.
His compositions have been performed by the Los Angeles Philharmonic, San Francisco Symphony Orchestra, Los Angeles Opera and the Chicago Symphony.
"Obviously, different kinds of movies and different kinds of television shows dictate different kinds of themes. And for me to truly understand the musical signature I must compose, I watch the movie over and over. I think this part is so much fun, and is always a satisfying experience," says Wang, 61.
Lately, the two-time Emmy-award winner has expanded his range to TV shows produced on the Chinese mainland, including the popular 42-episode TV drama, The First Half of My Life, which aired in the summer of 2017 and was based on Hong Kong writer Isabel Nee Yeh-su's novel The First Half of My Life, and 41-episode TV drama, Dear My Friends, which started broadcasting on Dec 10.
"I'm very proud of my Chinese heritage, and I never thought that my music career would allow me to venture back to my motherland. By being associated with Chinese television and movies, I'm always trying to broaden my Chinese music repertoire. I think it's filled with such rich and vibrant instruments, and I love combining the two musical cultures together. The synthesis is always a rewarding tapestry of music," he says.
Wang's first movie job in China was Sophie's Revenge in 2009, which was directed by Eva Jin and starred Chinese actresses Zhang Ziyi and Fan BingBing.
Wang started playing piano at the age of three, encouraged by his mother.