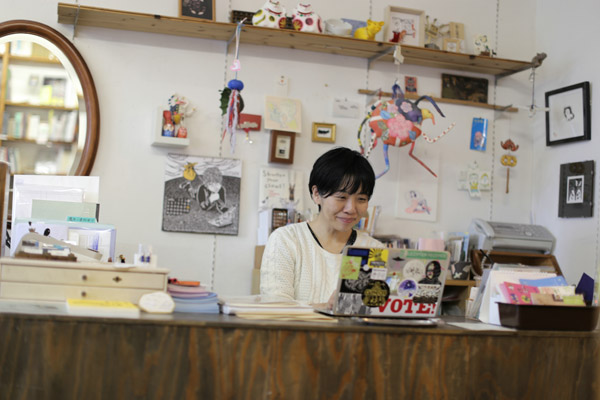 Ten independent booksellers that boast interesting backgrounds and an intimate spirit are featured in Shinobu Yoshii's book. [Photo provided to China Daily]
Tokyo has the highest number of independent bookstores in the world, more than 1,300, according to a Quality of Life Survey 2017 by Monocle magazine, higher than the total number of the subsequent nine cities on the list.
"Chinese visitors always say that Tokyo has many great bookstores, but I want to show Chinese readers that before bookstores like these came into existence, there were many small, independent bookstores and publishers that helped nurture readers over the generations. And, it's because of them that the culture of reading in Tokyo took off," she says.
"Without understanding that phase of development for bookstores in Tokyo, you cannot really learn how to run such a bookstore in China. You can imitate those bookstores, but how they run and how they nurture readers can only be learned by talking to the booksellers. As you learn to create a beautiful look like those Tokyo bookstores, you should also learn their history and background," Yoshii says.
That is why she used the word honya-the Japanese word for small bookstore-in the Chinese title of her book to represent the independent and intimate spirit of the stores in her work.
It is also the reason why when she wrote the book, she first introduces the look, location, history and owner of a bookstore; and rather than summarizing her observations and feelings in the interviews, she uses a Q&A style to let readers learn from the thoughts of the owners in their own words.
In Tokyo's Constant Booksellers, Yoshii presents 10 interesting independent booksellers to Chinese readers.
For instance, at B&B, readers can spent 500 yen ($4.48) to buy a beer and rifle through the books or listen to lectures while enjoying their drink.
At the end of the book, Yoshii introduces an independent publisher and bookstore Natsuhasha, which has one employee, its founder Junichiro Shimada.
Shimada started the publishing house at the lowest point in his life-after his applications for jobs were rejected by 50 companies. In the same winter when he was 31, his closest cousin died, and he decided to publish a book to comfort the parents of his cousin.